Weather dried up a bit for Morchard Bishop Family Fun Day and Vintage Rally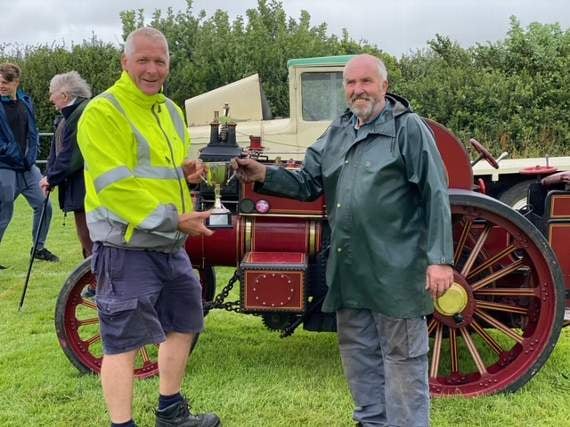 Mr Gordon Bruce receiving the Ian Robinson trophy for best in show for a Burrell half size model road locomotive owned by Mrs Audrey Sanders of Bow, presented by Bob Robinson, Chairman, Morchard Bishop Playing Fields Association.
Subscribe newsletter
Subscribe to our email and get updates right in your inbox.
JUST before midday when the Rally was due to open, the clouds cleared, the torrential rain that had gone on for around two hours stopped, puddles began disappearing and Morchard Bishop Family Fun Day and Vintage Rally was open on Saturday, August 7.
The day was in aid of the village Playing Fields where it was held. Occasional rain through the afternoon did not discourage the crowds, the children's races were very well supported and the two and four wheel vehicles attracted a lot of interest.
Among the vehicles was a double decker bus, a half-size Burrell road locomotive, a 1933 30 cwt Ford flat bed lorry, a number of cars and a few motorbikes.
John Musty, owner of one of the cars, a 1927 Gordon England Austin 7, said his vehicle was here to be used and enjoyed. "It does not need to be in a museum, it needs to be out and people to enjoy it," he said.
The chairman, Bob Robinson, had to leave for a while to ring bells for a wedding in the village and one of the cars was late arriving having been used at the wedding.
Not everyone booked to be at the Rally was able to turn up and it was very much a scaled down event compared to previous years. Considering the weather it was probably just as well there was no dog show.
There was only one prize, that for the overall Best in Show which was the half size Burrell. One of the disappointments was the ferret racing could not be there.
Among the visitors was the Rev Ken Gowland and his wife, Chrissie, with their dog, two-and-a-half-years-old Labrador retriever, Ted. Mr Gowland is to be welcomed to Emmanuel Church as the new Minister on September 5.
They came to Morchard from North Yorkshire near Helmsley. This is now their settling in period before taking over the pastoral care of Morchard with Copplestone, Hele Lane and Witheridge Methodist Churches.
Among the events through the afternoon was the popular children's races and lots of fun with the egg throwing.
One blessing was the new marquees that had been lent by the Methodist Emmanuel Church. The church had lent marquees to Morchard Primary School to act as classrooms for Covid-19, but a huge storm last August had totally trashed them.
The Methodist Church was able to buy two new marquees which were lent to the Playing Field Association for the Rally and proved a real Godsend.
Comments
To leave a comment you need to create an account. |
All comments 0