Two years to the day for Devon church bell ringers at Zeal Monachorum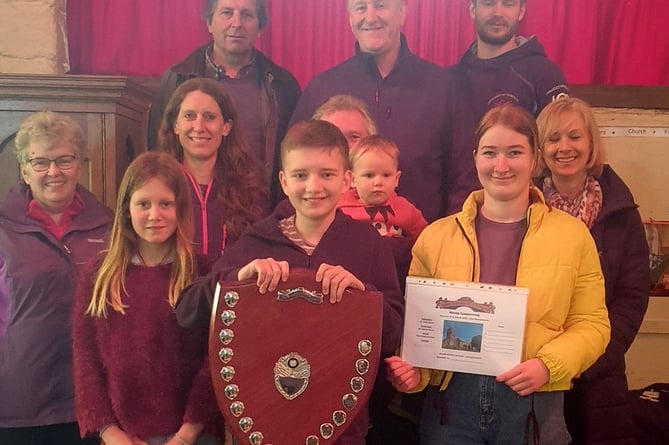 Chagford's winning team, centre is the Tower Captain Jon Bint, his daughter Holly (in yellow) and 13 years-old Ewan Kaczanow. Photo: Teresa Pearce
(Teresa Pearce )
Subscribe newsletter
Subscribe to our email and get updates right in your inbox.
TWO years ago to the day a bell ringing competition was held at High Bickington.  No-one realised that would be the last competition until this competition held on Saturday, March 12, because of covid.
Chagford won both the T H Priddle Shield for the Round Ringing and the Percy Rice Shield for Half Peal off the stay.  Chagford had also won this in 2009, 2010 and 2016.  The full peal section was won by Kingsteignton, taking home the Hooper cup.
Judges were Graham Sharland from South Brent and James Steer from Bow.  They spent the day in a house across the road from the church so as to be uninterrupted.
Jon Bint is Tower Captain at Chagford.  One of the younger ringers that day was his daughter, Holly.  Another was 13 years-old Ewan Kaczanow.  Jon's son, Joe, also rings.  Jon said that before he began ringing none of his family rang but most are now.
Half Peal off the stay: 1 Chagford  23 faults, winning the P . Rice Shield; 2 Kingsteignton 23¼; 3 South Molton 27¾; 4 Tiverton St Paul 1 28¼;  5 Tiverton St Paul  2 38¾; 6 Kentisbeare  44¾.
Full Peal section: 1 Kingsteignton 37½ faults, winning the Hooper Cup; 2  Bow 60 ; 3 Tiverton St Paul 84½; 4 Chagford  94½; 5 Berrynabor B 113; 6 South Molton 133; 7 Berrynabor A 38½.
Comments
To leave a comment you need to create an account. |
All comments 0