Tributes paid to respected Crediton businessman Tom Connell
By 
Alan Quick
  |   Editorial Manager/Photojournalist   |
Wednesday 8th April 2020 5:43 am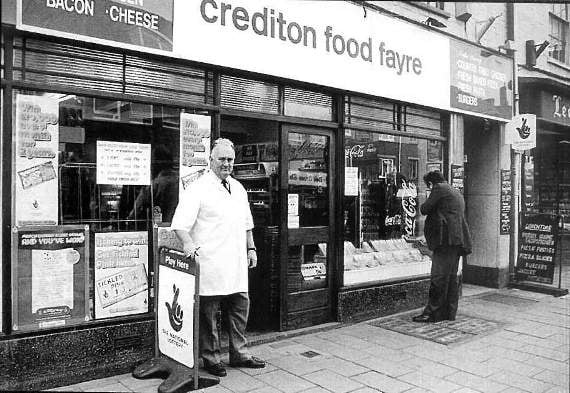 Tom Connell outside his shop, Crediton Food Fayre in 1999. Photo: Cyril Chudley.
()
Subscribe newsletter
Subscribe to our email and get updates right in your inbox.
DURING the many years he ran the Spar shop, Crediton Food Fayre, Tom Connell became much involved in the commercial life of the town. 
The business closed in 2009, however, in his later years Tom's health began to let him down. He became a familiar figure on the High Street in his mobility scooter, stopping frequently to chat. 
Tom died last month aged 83.  He was not a CV19 victim but because of the current restrictions only a very few members of his family were able to be at Crediton Cemetery for his burial. A memorial service is to be held when possible.
Tom was born at Shaldon near Teignmouth in the family cottage next to the river.
He was educated at Canford School in Dorset.  During his National Service Tom was a Second Lieutenant in the Army, based in Exeter. 
Tom's career really began when he joined Heinz, becoming highly respected, able to talk to anyone.  He was offered a chance to go to Canada but he preferred to stay in his beloved Devon. 
He loved sport, playing rugby for Teignmouth and Nottingham when he worked there with Heinz. At Crediton, Tom was Captain of Downes Crediton Golf Club. 
Tom came to Crediton in 1967, buying Lee's grocery store at 19 and 20 High Street, Crediton the following year. 
This business had begun in 1920 when Thomas Lee moved from Okehampton to Crediton.  Thomas built up his grocery business by buying 19, 20 and 22 High Street, eventually having five delivery vans.
His son, Eddie Lee, bought 21 High Street to create a wine and spirit department, later run by his son, Peter. This is now Crediton Community Bookshop. 
In 1968 the grocery business at 19 and 20 was sold to Tom. He also had a grocery shop in Paignton for a time and in Bradninch, Tom also owned "Video Movies" at No 3 High Street, Crediton.
His was one of the first shops to introduce frozen goods having six chest freezers in a little room at the back painted calypso pink. 
His daughter said Tom always "wanted to introduce new quality foods, he wanted the best, giving people fresh coffee, ground in the shop, and the deli counter where he cooked the best ham on the premises and would have a great selection of cheeses and dips and tasters for his customers.
"He had great pride in his hams and delivered them to pubs and friends locally especially around Christmas time. He could sell snow to the Eskimos!"
He was the first to open on Sundays and he later introduced a hot food takeaway counter.
Tom became much involved in the business of the town. He was chairman of Crediton Chamber of Commerce, for a short time publishing its own news sheet for the town shops. 
He pushed for the illuminated Christmas trees to be put up outside as many premises as he could persuade, getting the Chamber to have the special brackets made.
He also organised the hanging flower baskets scheme for many years. 
Tom was proud of his business and fervently believed in Crediton. He always said the town was a big supermarket but without a roof over it. 
He was at the shop through the time when the High Street was dug up for work to the sewers and when snow cut the town off for at least three days. 
When parking restrictions and double yellow lines were introduced, Tom was not at all happy, threatening to go out and paint them all black. 
Tom had an unusual middle name, the family name of Byng. The story behind this is interesting. It is linked to George Byng, 1st Viscount Torrington who was awarded for service in many battles and became the Rear Admiral of Great Britain.
Tom leaves his wife Hazel, three children, one late son, two step-sons and 12 grandchildren.  
Comments
To leave a comment you need to create an account. |
All comments 0