Return of Car and Bike nights at Shobrooke and Wembworthy
Wednesday 25th May 2022 6:00 am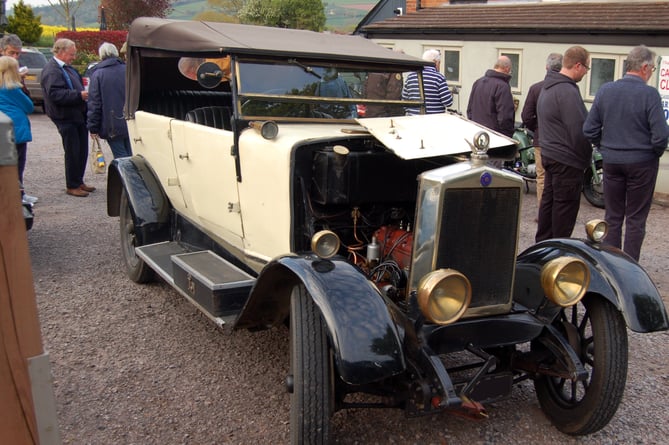 One of the vehicles at the Red Lion.
(submitted )
Subscribe newsletter
Subscribe to our email and get updates right in your inbox.
HAVING been forced to remain dormant for over two years during the pandemic, Classic and Specialist Car and Bike Night finally returned to The Red Lion in Shobrooke on Thursday, April 28. With 31 vehicles attending over the course of the evening, the event's return certainly appeared popular, with the long standing policy of "only enthusiasm is required" bringing out a superb range of machinery, from the vintage through to the latest models.
Particularly pleasing to the organisers was the number of motorcycles which appeared, with approximately a third of the attendance being of a two-wheeled persuasion. A quirky addition to the gathering was the appearance of a quad bike, possibly something of a first for the event. Having started in April 2012, the April 2022 gathering marked the 10th birthday of the event, a milestone marked in fine style thanks to the efforts of Natalie and her team at The Red Lion. Can't beat a good bit of chocolate cake!! Moving on a week, the Vehicles Of Interest gathering took place at The Lymington Arms at Wembworthy on Wednesday, May 4.
This meet had actually beaten its Shobrooke counterpart to the draw with an event at the start of April, but that had unfortunately been ruined by bad weather so it was the far more successful May gathering that really marked its return.
Taking a similar relaxed approach as the Shobrooke meet, the Wembworthy event is open to anything and everything on wheels.
Thus another broad spectrum of cars and motorcycles was to be seen but with a further addition that is becoming something of a feature of the meet.
Perhaps due to its very rural location, the usual road going vehicles are often joined by a number of classic tractors, these adding a further interesting twist to the evening's proceedings.
Hopefully now Vehicles of Interest (first Wednesday of the month, The Lymington Arms, Wembworthy) and Classic and Specialist Car and Bike Night (last Thursday of the month, The Red Lion, Shobrooke) will be able to return to their regular monthly activities. If you have a machine you'd like to bring, or just want to stop by and take a look, you're more than welcome to come along to either event – or ideally both!
Comments
To leave a comment you need to create an account. |
All comments 0