Relatives of those buried in graveyard object to conversion of Yeoford Chapel into a home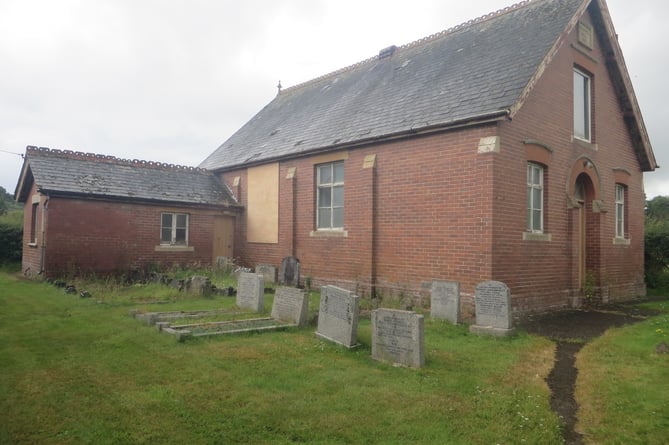 Subscribe newsletter
Subscribe to our email and get updates right in your inbox.
BOTH objections to a planning application to turn Yeoford Chapel into a two bedroomed house with parking opposite for three cars came from people who have relatives buried in the Chapel graveyard.
The application is from Dr John Shelley of Shobrooke Park for change of use from chapel to a single dwelling for Yeoford Gospel Hall.  The site measures 0.10 hectare.
Dr Julia Hawkins of Stockport says she has two grandparents, four great grandparents and numerous other members of her extended family buried there and that she, her sisters and mother regularly visit the Chapel to tend those graves.
She adds that other graves show evidence of recent visitors.  Although she supports the efforts to find a new use for the building to prevent it falling into decay, she is concerned there is no mention of the graveyard in the plans.
She adds that it would be a particular concern if the gravestones were removed without proper documentation of the grave sites to be noted for any future building or buyers of the property.
Mrs Sandra Thomas of Brighton has written to say that many of the graves were of her close relatives and forebears.  She was asking if headstones were still going to be moved to the adjacent graveyard, respecting family groups, as she had previously been told would happen.
She also wanted to know what restrictions might be placed on the land where the graves are which, she felt, was sacred ground.
Provided there were "cast iron" safeguards for the graves, she supported plans to find a new use for the building.
Ms Chloe Sterling of Exeter objected saying that the village does not have a shop, asking why there had not been a chance to buy the building for this or even an alternative business or community use such as office or studio spaces.
Stephen Reed, Devon County Council's Senior Historic Environment Officer, commented that this was an early 20th century building in the Arts and Crafts style.
He suggested a Written Scheme of Investigation was needed to set out a programme of historic building recording "in mitigation for the impact upon the historic fabric and appearance of this building".
Or, if this was not done, fixtures and fittings that would be affected by development should be photographed and recorded.
Revised plans show a ground floor bathroom, kitchen, utility, lounge and dining space, two bedrooms on the first floor, the entrance hall extending the width of the building.  It is proposed to replace the main door and windows with wood to match the existing with plans to demolish a lean-to.
As for flood potential, the report concludes that the primary sources of flood risk would be from the Rivers Yeo and Troney and pluvial (rain) flow routes in and around the area of the site with a low risk of groundwater flooding.
While supporting the application, Crediton Hamlets Parish Council said that conversion to a dwelling was preferable to allowing it to fall into disrepair and become an eyesore.
It was thought that the plans were not correct in showing mains drainage was connected.
Comments
To leave a comment you need to create an account. |
All comments 0