QE School in Crediton begins consultation on joining Dartmoor Academy Trust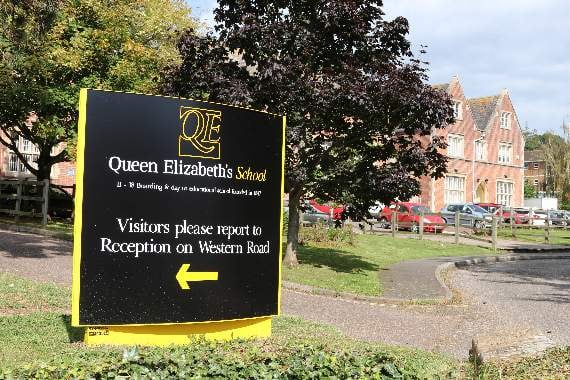 Queen Elizabeth's School is consulting on whether to join a Dartmoor Multi Academy Trust. AQ 4619
Subscribe newsletter
Subscribe to our email and get updates right in your inbox.
IN April 2017 the Governing Body of Crediton's Queen Elizabeth's School announced that it was in talks with other schools locally about the possible formation of a Multi Academy Trust (MAT) to be known as the Dartmoor Multi Academy Trust (Dartmoor MAT).
Since then the college says that a steering group comprising a governor and the Headteacher or Principal from each school have been researching, evaluating and designing this Trust.
It is now launching a public consultation into the proposal.
Deborah Leighton Plom, Chair of Queen Elizabeth's Board of Governors and Rupert Poole, QE Principal, have confirmed that a number of schools have expressed an interest in forming this MAT.
In addition to Queen Elizabeth's School they are: Okehampton College, Boasley Cross Primary School, Bridestowe Primary School, Exbourne Church of England Primary School, Lydford Primary School, Northlew and Ashbury C of E School, Tavistock College, Holsworthy Community College, Okehampton Primary School, North Tawton Primary School, South Tawton Primary School, Chagford C of E Primary School, Black Torrington C of E Primary, Bradford Primary School, Bridgerule C of E Primary School and Highampton Primary School.
Deborah Leighton Plom told the "Courier": "Our proposal for conversion to Multi Academy Trust status with these schools is underpinned by a shared commitment to ensure the best possible outcomes for students at Queen Elizabeth's School.
"The overriding driver is summed up in the Mission Statement: To provide the highest possible quality of education for all our children, in order to ensure pupils from all backgrounds are able to succeed."
She continued: "This proposal, therefore, involves a mix of co-operative schools, Church of England schools and ourselves, an existing Academy.
"Each school, whilst becoming a member of the MAT, will maintain its own distinctiveness, ethos and values.
"As part of the decision making process, the Governing Body is committed to undertaking a full consultation with our stakeholders, and they will take all views into account before any final decision is made."
Mrs Leighton Plom and Rupert Poole have now written to all parents and guardians of students at Queen Elizabeth's explaining the proposals and where people can find out additional information and take part in the consultation.
Ahead of the consultation, Mrs Leighton Plom and Rupert Poole have issued further details which includes:
An Academy is a state school that is run by an Academy Trust. The Academy Trust enters into an agreement with the Secretary of State for Education that sets out its responsibilities and accountabilities for the effective running of the Academy.
The Academy is funded directly by the Government not through a Local Authority such as Devon. The Trust is a charity and publishes its accounts annually. Queen Elizabeth's School converted to an Academy in 2011.
WHAT IS A MULTI ACADEMY TRUST?
A Multi Academy Trust (MAT) is where a number of schools join together and form a single Trust with a Board of Directors (Trustees) answerable to the Trust's Members.
Members of the Trust are responsible for the strategic oversight of all academies within the Trust. They are the conscience of the Trust, ensuring that the objectives are upheld and they monitor the effectiveness of individual academies, manage central services and report to the Secretary of State.
They work to ensure that individual academies are performing at the highest level and that they get the support and challenge that they require.
The Trust will delegate many powers to a Local Governing Body (LGB) which will have a role similar to that of the current school Governing Body. Leadership of the academies will be undertaken by the existing head teachers with a Chief Executive Officer (CEO) in place to maintain standards across all of the academies.
WHY DID YOU CONSIDER CONVERTING TO A MAT?
Queen Elizabeth's School has always believed in the benefits of working collaboratively with other schools and we have a successful history of doing so.
Since the first announcements by the government about the formation of MATs Governors at Queen Elizabeth's School have been looking into various options.
We wanted to be at the forefront of designing a MAT in partnership with other like-minded and successful schools locally, schools who share our core aims and values. This allow's us to create a MAT geared to our own values and practices.
The MAT has been designed to support the sharing of expertise, professional development, leadership, teaching and learning, structures and resources, so that we will be able to ensure all our schools get access to opportunities and focus on what really matters – the best possible teaching and learning via:
• Better opportunities to share best practice and professional development programmes across the schools, adding real value to the education of all children. Being in the Dartmoor MAT will enhance our school improvement work that we currently do through membership of the Dartmoor Teaching School Alliance.
• Opportunities for the students and staff to work together across the schools.
• More opportunities for staff retention, deployment and promotion, by keeping good staff within the Trust who might otherwise further their career elsewhere.
• A broader base for developing leadership.
• Increased economies of scale through joint procurement and the running of central services such as finance, human resources and premises management.
• Cross phase working, the MAT includes both primary and secondary schools. We believe that by working much more closely together we will be able to benefit all our youngsters, whether they are entering early years provision or on the brink of leaving our schools to enter the world of work or higher education.
• A local "cluster" model is proposed, meaning schools will be able to work together in smaller clusters in order to provide local solutions to benefit all members of the communities we serve.
It is difficult to quantify the risks involved in joining a MAT, as every conversion process is different.
Some stakeholders involved in any conversion may be concerned about the financial arrangements which will be put in place in case these adversely affect their own school.
They also may worry about the degree of independence their school will have in managing and recruiting staff and in setting a curriculum, and about the way that leadership and governance will function within the MAT. The way to ensure that these possible concerns do not place any of the schools involved at risk is to set up the MAT in a mutually beneficial way with a strong and positive ethos in place, and to ensure that it is well-run.
A rigorous due diligence process will be undertaken and the outcomes considered before any final decision is made. There has been a great amount of collaborative groundwork undertaken by representatives of all the schools involved in this proposed MAT to ensure that all of the schools agree with the proposed structure for the MAT. There has also been work undertaken to ensure that the proposed Scheme of Delegation, which defines how the leadership and Governance of the MAT will operate, is fit for purpose.
From the beginning it has been clear that all of the representatives have been determined to preserve the independence and unique character of their schools, and to make sure that key decisions on staffing, curriculum and the use of resources will be made so as to benefit the students and families of each individual school, as well as the local community as a whole.
It should also be noted that there are risks in not becoming a MAT. In the future, any school could be influenced to become part of a broader academy chain. Creating a local MAT, under local direction, offers the best opportunity to sustain vibrant, successful local schools.
WHAT CHANGES WILL IT BRING TO QE?
It might be easier to start with what won't change! All the schools will retain:
• Existing sites – and we will continue to access central government funds to improve our buildings and the sites
• Any existing Parent Teacher or Friends Associations in the schools, such as our Parent Council
Under the proposed model, local governance of the schools will continue, as long as the school continues to perform at a high level. Therefore, the make-up of our local Queen Elizabeth's Governing Body will remain largely the same. However, the change is there will be an overarching Multi Academy Trust Board of Directors (Trustees) drawn from the governing bodies of the existing schools who will have overall responsibility for all schools in the MAT.
Queen Elizabeth's School will continue to be run by its own Principal and leadership team who will remain focussed on delivering excellent teaching and learning at Queen Elizabeth's School.
The change is all staff would have the opportunity to work together in a supportive Multi Academy Trust, a "hard wired" collaboration which builds on the collaborative structures already in place between the schools.
This hard wired collaboration is designed to give extended opportunities to share good teaching and learning, join together to buy resources and develop a collaborative way of working for the benefit of all our children, whilst providing new opportunities for them to work across schools and access different learning opportunities.
The Governing Body of Queen Elizabeth's School is now seeking the views of the public on this proposal.
The formal consultation process began on Monday, September 18 and will run until 4pm on Friday, October 20.
After the closure of the consultation, the Full Governing Body of Queen Elizabeth's will then consider all the representations made, along with the results of due diligence and they will also scrutinise the Scheme of Delegation and Articles of Association that will be finalised in the forthcoming weeks.
Having considered all the evidence available to them, it is expected that a final decision will be made in mid-November on whether to proceed with the proposal.
If the Governing Body agrees to proceed, Queen Elizabeth's School will join the Dartmoor MAT and the school will aim to convert to Multi Academy status on January 1, 2018.
Rupert Poole added: "It is important to point out that all the previous correspondence and events that we have undertaken since the announcement in April do not form part of this formal consultation process.
"Governors have used the feedback provided to-date to support the work we have done in designing the Dartmoor MAT.
"Before making the final decision the Governing Body will only consider submissions made during this formal consultation period so it is important that as many people as possible take part, even if they have submitted comments or have been involved in conversations about the proposal previously."
The Queen Elizabeth's School website (www.qe.devon.sch.uk ) has a section on the Dartmoor MAT that has been developed since April, and where a lot of questions have been posed and answered.
QE will also be holding consultation meetings on Wednesday, October 4.
Students will be given information in tutor time and in assemblies during the week beginning Monday, October 2, followed by lunchtime meetings for them to go along and express their views.
A Staff consultation will take place from 4pm to 5pm on Wednesday, October 4 at the Barnfield Campus Hall.
Parents and community stakeholders are invited to attend from 6pm to 7pm on Wednesday, October 4, in the Barnfield Campus Hall.
Mr Poole said that a record of the meetings will be placed on the school website.
He added that any views expressed at the consultation meetings will be captured and provided to the Full Governing body for their consideration prior to the final decision. In addition to the consultation events detailed above, the public is invited to make formal representations to Queen Elizabeth's Clerk to Governors, Lisa Champ, using the following e-mail: [email protected] .
• What do you think of the proposal? Why not share your views with fellow "Crediton Courier" readers?
Write a letter, suitable for publication, with your name, address and a daytime telephone number (not necessarily for publication), to: The Editorial Manager, "Crediton Courier", 102 High Street, Crediton EX17 3LF.
Alternatively, email your letter, with the required information, to: [email protected] .
Comments
To leave a comment you need to create an account. |
All comments 0