Lidl store plan for Crediton recommended for approval
By 
Alan Quick
  |   Editorial Manager/Photojournalist   |
Thursday 14th April 2022 4:39 pm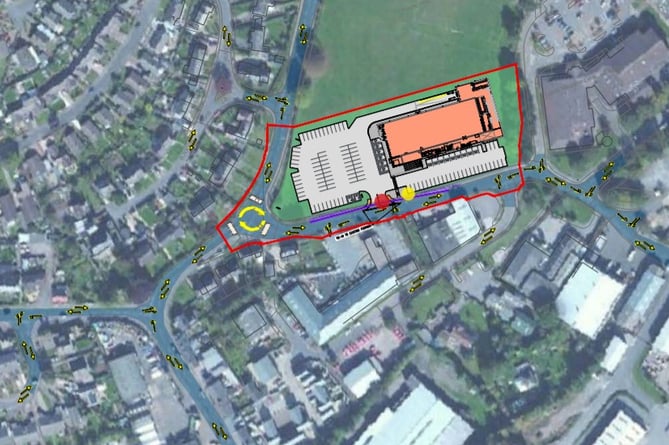 A map of where the proposed Lidl store would be located if approved. Image courtesy of One Design Architects
(One Design Architects )
Subscribe newsletter
Subscribe to our email and get updates right in your inbox.
A PLAN for a Lidl food store off Commercial Road in Crediton (planning application 21/00222/MFUL) is being recommended for approval by Mid Devon District Council's planning officer.
Councillors will debate the proposal at the next meeting of MDDC's planning committee at Tiverton on Wednesday, April 20.
The Lidl plan is for a store on one of the rugby pitches at The Rec, land owned by Queen Elizabeth Education Foundation and currently leased by Crediton Rugby Club.
Conditions recommended by MDDC include S106 payments by Lidl of up to £400,000 "to assist in the relocation, process and provision of improvement playing fields" for Crediton Rugby Club and £100,000 towards the provision of a zebra crossing, which includes realignment of kerbing in Hawkins Way.
A total of £87,289 is to be paid to assist with traffic through the Western Gateway, St Lawrence Green and High Street with regard to air quality.
All existing trees are to be retained.
In a report which will go to the 2.15pm meeting, it states: "The proposed erection of a food store (Class A1) with associated parking, landscaping and access arrangements is considered to be supported when the policies of the Local Plan are viewed as a whole.
"The development is not considered to impact detrimentally on the viability or vitality of the town centre with sequential tests met.
"The retail use of the store proposed will contribute to customer choice within the town of Crediton with a limited impact on the existing traders.
"The development is also not considered to result in a detrimental impact on the character of the area or result in significant adverse impacts on amenity levels of occupiers of residential property.
"Having regard to all material considerations, it is concluded that the application does accord with the presumption in favour of sustainable development.
"When tested against Paragraph 11 of the Framework the Local Planning Authority consider that the adverse impacts of the proposed development would not significantly and demonstrably outweigh the benefits when assessed against the policies of the NPPF as a whole. In addition the economic benefits in terms of increased employment in the locality, financial contributions towards air quality mitigation and assistance in the relocation of Credition Rugby Football Club have also been taken into account.
"The proposal has been considered in terms of its impact on highway safety and whether the design is suitable for this location."
The application is also said to comply to conditions concerning landscaping, highway matters and drainage.
A total of 319 letters of representation were received, 14 were of objection, 300 in support and five being of general comment.
Some of the grounds for objection are summarised in the meeting documents as follows:
• The location is wrong and will introduce a lot of traffic onto an unsuitable road. This area already gets congested with queuing traffic at times.
• When the housing at Pedlarspool is completed the traffic using this road will increase. Commercial Road needs to be wider to accommodate the traffic.
• It will cause greater peril for pedestrians and cyclists using or crossing Commercial Road, not to mention Exhibition Road, Mill Street and Blagdon Terrace.
• This is the wrong location for a large retail outlet and there are better locations within Crediton.
• There are many people that come from the north western side of Exeter to shop at Crediton's Tesco store, it is possible some of these may divert to the new store causing even more traffic.
• It will no doubt have an adverse impact on other local retailers, and importantly the town centre.
• "The Rec" has been used for an extraordinary number of purposes and activities, too numerous to list. Even when there is no organised activities there are plenty of people of all ages, exercising, picnicking and generally resorting there to be in the open air.
• In these times when exercise and fresh air is important, not just due to Covid-19, and obesity is a growing problem, it would seem foolish to put "The Rec" out of use.
• This is a large, flat, level piece of ground with good access and amenities close by. It is a level walk from the town centre. It forms a natural sport oriented site bordered as it is by the Lords Meadow Leisure Centre.
• The access would be in a dangerous position as multiple businesses access this point of the road, it is the main thoroughfare for several heavy haulage companies and the leisure centre also attracts high volumes of traffic.
• The addition of store delivery vehicles and a high volume of shoppers to the already busy road along with vehicles trying to access Commercial Road from the various businesses and side roads will only exacerbate the poor safety situation.
• Whilst there are already lampposts on Exhibition Road, there is a lot of difference between a couple of lampposts and a car park full of lights.
• We do not need another supermarket.
• The A377 was rerouted a few years ago to improve the air quality in the area of Crediton, but the improvements stopped short of the industrial area, therefore the road is not suitable for bi-directional traffic.
• Crediton is a rural town in Devonshire but is deplorably short of recreational space and this is disappearing.
• There will also be the problem of night time deliveries and the noise that will cause, we are already subject to overnight clanging from the galvanising works.
• Although the store will probably close at 10pm there will still be considerable disruption from customers loading their shopping, starting their cars and slamming the doors.
• How can an HGV driver safely negotiate a crowded car park with shopper's trollies moving around and unpredictable children running around?
• This applicant would unfortunately be more likely to impact negatively on the much more appropriate and longer lived Morrisons store as well as the high street, resulting in a loss of jobs.
• This new development is unnecessary due to the very recent construction of a store in Tiverton, it will not add to the community positively as its ethos is not one of customer service or community engagement.
• There are already two supermarkets in Crediton - Morrisons and Tesco. These stores already serve the community well and with the additional high street stores there is a depth and variety of shops.
• Living in Newton St Cyres we will have additional deliveries of trucks along the A377 as well as shoppers, adding to congestion and pollution.
• What Crediton needs is sustainable housing and space for provision of a new school.
• Housing need in the area is greater than that for another supermarket.
• This asset in Crediton currently claimed by the School needs to be treated as a community asset and one not to be wasted on retail development.
• There will not be another opportunity to have the secondary school on one site if this is not registered as a primary concern. Or should housing need come first then this is perfect land, offering a level site and easy access to all, without the need as in some recent town developments to be accessed only by steps or steep slopes.
• Lidl's in particular, sells very little if any local produce or indeed British produce.
Comments of support included:
• Crediton has two of the bigger supermarkets but the town should now have at least one of the budget outlets to give greater choice at the lower end of the market.
• The lack of superstores denies the town much needed income from incoming villagers wanting to get their food shopping done.
• There are certain items sold by Lidl which are not stocked by existing supermarkets.
• The proposed supermarket is ideally located next to existing employment land.
• It will provide much needed jobs in Crediton.
• Its location will reduce the traffic on the A377 and through Exeter.
• It will be within walking/cycling distance for residents of Crediton.
• Crediton is one of the few towns which does not have a store of this type and building one locally would save unnecessary journeys to Exeter, Tiverton or Okehampton.
• This will lead to some much overdue competition for the two supermarkets in town. Competition between businesses can only be good for the residents of Crediton and surrounding areas, as it normally leads to lower prices, a better range of goods or improved service.
• As Crediton continues to grow, it needs more employment within the town to reduce the need for residents to commute to Exeter or similar in order to find work.
• These companies will work with the Council and the Council in turn with nearby residents to ensure traffic flow, operating hours and delivery hours and lighting will all be taken into consideration.
• The landscaping and screening must be sympathetic with the current area.
• Footfall is important to the development and survival of the businesses not only on the Industrial Estate but Crediton Town.
• Lidl goods are keenly priced and will help people on low incomes in the town and no doubt the town bus will visit once a week. Tesco and the Co-op are both in the high Street for convenience but are expensive.
• An additional food store with the range of products typical to those found in Lidl stores would be welcome in Crediton.
• The proposal would offer the growing population more choice locally for supermarket shopping. If people wish to shop at Lidl the nearest stores are in Tiverton, Exeter or Okehampton. The proposal would reduce shopper's carbon footprint by allowing the population of Crediton and surrounding villages to shop nearby instead of travelling further.
• This would be a welcome addition to Crediton and provide a much needed service as more homes are built here.
• The addition of a pedestrian crossing would be essential to promote access on foot from town and improve safety.
• As a company Lidl supports British producers which is more important than ever since leaving the EU and the need to reduce food miles.
• It will bring people to the town and help support the town centre shops.
• As a business owner in Crediton it's good to see developments like this coming to town especially when for many of us travelling to the nearest store of this company is on the other side of Exeter.
• The big positive for me is they are fitting solar panels for the store and it will also include electric car charge points.
• Lidl has numerous green initiatives and is committing to financial support toward the town.
Lidl has written to a number of people in the town asking them to lobby by email the members of the Mid Devon District Council planning committee to seek their support for the scheme.
Crediton Town Council previously objected to the application on the following grounds:
• The application does not reflect the current, urgent need to design for climate change
• Insufficient biodiversity net gain due to loss of trees, lack of information on replacements, loss of hawthorn hedge without replacement coupled with insufficient planting of new trees for natural shade and to improve the street scene especially on the south side; too few bat and bird boxes to encourage wildlife and no ecology plan.
• Lack of design information relating to the proposed swales for water capture; lack of information on re-using this water or whether they are an opportunity for increasing biodiversity; no information on using water captured in proposed water butts.
• The design of the development is tight up to its boundaries and offers very little flexibility for mitigating its impact on the area, suggesting that the site is too small for this development or the development is too large for the chosen location.
• Lack of information relating to the pedestrian crossing proposals and no agreed design for it.
• Loss of allocated housing land within the Local Plan.
MDDC says that there is limited capacity at Phoenix House, where the meeting is to take place, and it urges people to attend via zoom.
The log-in details can be found on the meeting agenda on the MDDC website.
The new supermarket forms part of Lidl's £1.3bn investment plans across Great Britain in 2021 and 2022.
It will feature a sales area of 1,256m², an instore bakery, customer toilets as well as 114 car parking spaces and 10 bicycle spaces.
Once opened, it says it will create up to 40 new jobs for the local economy.
View the application via the website: www.middevon.gov.uk .
• What do you think about the plan for the Lidl store?  Why not share your views with fellow "Crediton Courier" readers?
Write a letter to: The Editorial Manager, Crediton Courier, 102 High Street, Crediton EX17 3LF.  Alternatively, email your letter to: [email protected] .
Please include your name and address and indicate if you do not want your address included if your letter is considered for publication.
Comments
To leave a comment you need to create an account. |
All comments 0