How do you want to see Crediton develop during the next 20 years?
By 
Alan Quick
  |   Editorial Manager/Photojournalist   |
Sunday 27th February 2022 7:00 am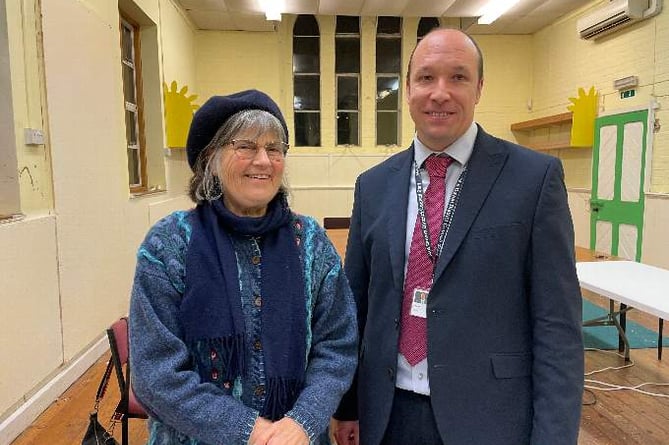 Cllr Liz Brookes-Hocking, the Mayor of Crediton with Richard Marsh, Director of Place, when he spoke in Crediton about the Crediton Town Centre Masterplan. AQ 3207
Subscribe newsletter
Subscribe to our email and get updates right in your inbox.
THERE are two important planning events in Crediton next month and residents are invited to give their views.
The Mayor of Crediton, Cllr Liz Brookes-Hocking explains what the events are about and their importance to the town:
"The new Local Plan, called Plan Mid Devon, is just beginning its long journey towards becoming a legal planning document.
"It will explain what's involved in developing the plan and how residents' ideas and opinions can be included in the process.
"The plan will cover 2023-2043, so its policies and proposals will impact on Crediton for a long time to come."
The deadline for responses is Monday, March 28.
Cllr Brookes-Hocking continued: "Sometimes people are surprised that areas are designated for development so far in advance of an application being submitted.
"The Pedlarspool/Creedy Bridge area was first identified as a possible area for development in about 2007, when the process to create the current Local Plan started.
"Outline planning permission was granted in 2017.
"Now, the detailed planning application (22/00063/MARM) is available for people to look at in the Planning section of Mid Devon District Council's website: www.middevon.gov.uk .
"The application shows the positions and types of housing, footpaths and cycle routes to town, road infrastructure and landscaping.
"There's a lot of information to look at and think about. Design of new housing in Mid Devon is supposed to be of high quality.
"Sustainability is a key policy.
"In this location, development should not impact adversely on the setting of Shobrooke Park without mitigating measures being taken."
Cllr Brookes-Hocking explained that Crediton Town Council has invited the planning officer who is dealing with the application to present it to councillors and members of the public at an open meeting on Wednesday, March 16, from 10am at Old Landscore School.
She explained: "It will be an opportunity for questions about the appearance of the new buildings, planting and landscaping, and any other issues that could be a part of the application."
Last week, the recently-appointed Director of Place for Mid Devon District Council, Richard Marsh, spoke to Crediton councillors and members of the public about the forthcoming district council's Crediton Town Centre Masterplan.
The plan will aim to provide a clear strategy to ensure that Crediton town centre meets its full potential as an attractive, thriving vibrant place with a strong economic function, now and into the future.
Richard Marsh, speaking at Old Landscore School, explained that he was keen to get the brief right for the consultants who would draw up the strategy.
Members of the public were surprised that consultants would be engaged, given the amount of thought that has gone into improving the town centre over the last few years through the Neighbourhood Plan and the Crediton Traffic and Urban Realm Feasibility Study.
However, the consultants will also have the brief to work out the funding sources of any proposed improvements to ensure that a plan is deliverable.
Mrs Brookes-Hocking said that special professional skills are most definitely needed for that.
The Masterplan will sit above the Neighbourhood Plan in the planning hierarchy but policies in the Neighbourhood Plan could help to guide aspects of the more detailed Masterplan.
The final brief for the Masterplan will be decided by Mid Devon District Council's Cabinet, most likely in the late spring.
Mrs Brookes-Hocking added: "We hope that will give time for further discussions to help get it right for the district and for Crediton.
"As a town, we get some chance to put our points forward but it's not open-ended. Decisions get made and are almost always kept to. It's a good idea to get in at the beginning."
Please visit the Town Council website: www.crediton.gov.uk for links to documents mentioned above as well as links to Mid Devon Planning.
Comments
To leave a comment you need to create an account. |
All comments 0