One-off festival will mark 20 years of the Dartmoor Society
By 
Alan Quick
  |   Editorial Manager/Photojournalist   |
Saturday 2nd June 2018 5:44 am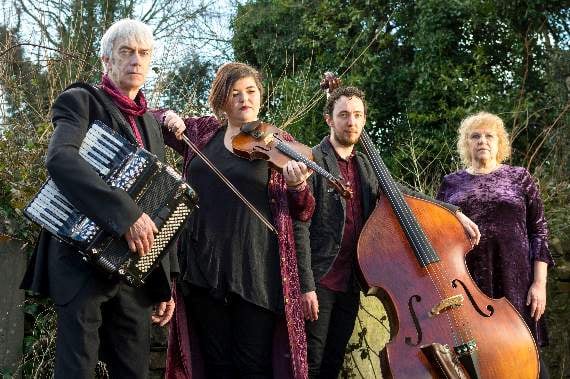 'Gothic Dartmoor' will perform as part of the festival and the performers are, from left, Paul Wilson, Hannah Cumming, John Dyer and Marilyn Tucker. Photo: Dave Green.
()
Subscribe newsletter
Subscribe to our email and get updates right in your inbox.
A ONE-OFF Festival entitled Dartmoor Renaissance will mark the 20th anniversary of the Dartmoor Society.
It will be the first-ever to be dedicated to music inspired by, or connected with, Dartmoor.
The Festival will extend over nine days (June 16 to 24) and will celebrate an extraordinary diversity of Dartmoor music from pre-history to modern times.
Classical, choral, folk, jazz, medieval and ancient music will feature.
It is specially fitting that the Festival coincides with the 700th anniversary of St Eustachius's Church in Tavistock and the 1,000th anniversary of Buckfast Abbey, in both of which there will be concerts.
Nearly 300 musicians and others are directly involved, and wonderful partnerships have been formed with conductor Simon Ible (renowned for his work with the Ten Tors Orchestra), with Martyn Warren of Voces who will perform 15th and 17th century music with Dartmoor resonances at Buckfast Abbey, and with Wren Music (renowned for their Dartmoor work with choirs and others over three decades), and with Seventh Wave Music.
Several world premieres will be heard from composers Clive Jenkins, Nigel Shaw, Richard Stanbrook, Judy Whitlock, Andrew Wilson and John Woolrich, all of whom have interpreted different moods, places and stories of Dartmoor.
"White Bird" by Clive Jenkins will be performed for the first time in the parish to which it relates – South Tawton.
A world premiere of a new jazz piece – "GRANITE" - by Kate and Mike Westbrook ("a giant of contemporary music") will be performed in Ashburton. It is a soliloquy and song cycle created around a mythical figure of a quarryworker at Haytor.
Hundreds of folk songs were collected by Sabine Baring-Gould on Dartmoor in the late 19th century and a selection of these will be presented in a unique "Gothic Dartmoor" concert in Okehampton.
Folk musicians Mark Bazeley, Jim Causley, Chris Hoban and Bill Murray will explore "A Mighty River of Song" at Clearbook, with music, as well as a discussion about the future of folksong on Dartmoor. The remarkable survival of William Andrew's 19th-century fiddle music, from Sheepstor, will form the basis of a whole day of workshops for fiddle players in Okehampton.
The Festival Finale is at Princetown on June 24 in the church built by French and American prisoners-of-war, where a concert of "Songs of War, Cuckoos and a Witch" will reflect the experiences of Napoleonic and American prisoners housed at Dartmoor Prison 1809-1816 and will include the first performance of songs written by Joseph Valpey of Salem, set to music by Jim Causley and Lucy Luxmoore.
The presence of hundreds of conscientious objectors in 1917-1918 will also be recognised, besides a dramatic account of a Tavistock shape-changing witch based on a story collected by one of the first folklorists in the country, Anna Eliza Bray.
Altogether, concerts will take place in eight different venues across Dartmoor, at Ashburton, Buckfast, Clearbrook, Okehampton, Postbridge, Princetown, South Tawton and Tavistock. plus a one day "pilgrimage" walk, with three pack ponies and a choir of 50 women, visiting prehistoric sites between Postbridge and Gidleigh.
A 64-page Festival booklet "Dartmoor Resonance and the Story of Dartmoor Music" has been written and compiled by Tom Greeves and will be on sale at each venue, priced at £3.
Comments
To leave a comment you need to create an account. |
All comments 0