Jamboree adventure for Crediton Scout Nathaniel Scarbrough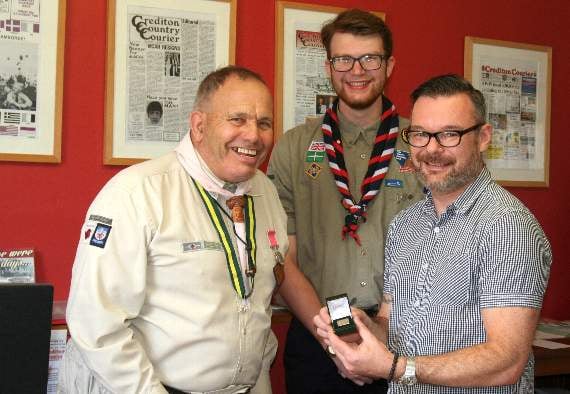 George Davey ADC Mid Devon Scouts presents a Scout Thanks badge to the 'Crediton Courier's' Sean Constable on behalf of the Beavers, Cubs, Scouts, Leaders and everyone in the Crediton Unit for all he has done for the Scouts in Crediton and Mid Devon, and with them Nathaniel Scarbrough, the only Crediton Scout going to the World Jamboree. SR 1765
()
Subscribe newsletter
Subscribe to our email and get updates right in your inbox.
NATHANIEL Scarbrough (17), is about to embark on the Scouting experience of a lifetime by attending the 24th World Scout Jamboree in North America, which will be welcoming 45,000 Scouts and their leaders from 167 countries!
Nathaniel, a former Head Boy at Chulmleigh Community College, currently studies History, Politics and Chemistry 'A' Levels at Exeter College.
He has achieved both his Bronze and Silver Duke of Edinburgh's awards and taken part in the challenging Ten Tors training programme. He is also now a volunteer for the Duke of Edinburgh Award scheme at Chulmleigh.
Nathaniel has come up through the Scouting movement in Crediton, from Beaver to Cub to Scout to Explorer.
He is currently part of the Tigers Explorer unit in Cheriton Bishop and is also a Young Leader with Crediton Cubs.
Nathaniel has been awarded his Platinum Scout Award and has also recently achieved his Diamond Scout Award.
He has taken part in many Scouting events over the years and is a seasoned camper and outdoorsman!
He also has a European Jamboree experience under his belt – Denmark in the summer of 2017.
He has worked hard to fundraise for his place at the Jamboree, which takes in a whistle-stop seven-hour tour of New York, 12 days at the Summit Bechtel Reserve in West Virginia, three days in Washington, D.C. (where they will attend a true American baseball game!) and four days with a host Scout group just outside Toronto, Canada.
The theme of the Jamboree is "Unlock a New World", which represents the new adventures, cultures and friendships that Scouts will share.
Scouts will work together to seek solutions to international challenges such as sustainability, poverty, hunger and conflict, inspiring them to make global change.
As the Jamboree is being held in North America, it is shaped by the cultures found in the "New World" countries of Mexico, Canada and the United States of America.
The Jamboree will provide a different and modern view on the Scouting Movement, while staying true to its shared traditions of conservation and outdoor fun.
Scouts will have the opportunity to learn about global issues and how Scouting can help provide a solution. Many organisations from across the globe will be on-site to showcase how Scouts can take what they learn at the Jamboree and translate that into helping in their home country.
Scouts will have the opportunity to share their culture with other Scouts of the world through music, dance, games, food and more.
Nathaniel's camp neighbours are from Texas, and his unit intend to cook them up a hearty full English breakfast in return for a Texan barbecue!
A wealth of outdoor activities is on offer for Jamboree participants, including aerial sports, climbing, extreme sports, river rafting and shooting sports.
Nathaniel will meet Scouts from all over the world, sharing Scouting stories and ideas and making lasting friendships. Crediton Scouting looks forward to hearing about his adventures upon his return!
He is the only Crediton Scout to be going. Two others from South Zeal will be joining the Devon contingent.
Comments
To leave a comment you need to create an account. |
All comments 0