Crediton Vaccination Centre volunteers thanked for service to the community
By 
Alan Quick
  |   Editorial Manager/Photojournalist   |
Sunday 23rd January 2022 7:00 am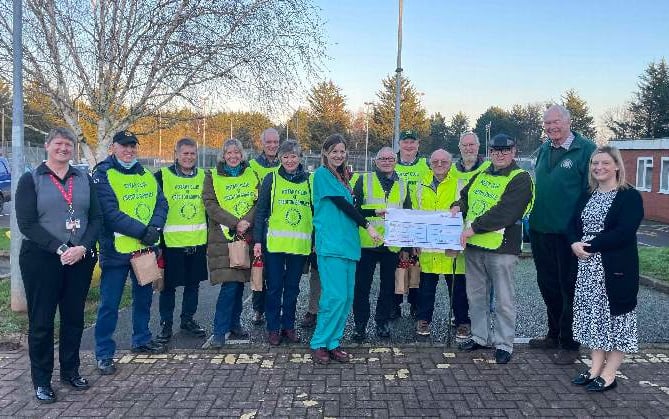 The Rotary Club of Crediton Boniface volunteers who were thanked by Dr Jo Harris, centre, with Hilary Smith, Manager, Redlands, left, and April Tregale, Operations Manager, Mid Devon Healthcare Primary Care Network, right. AQ 1618
Subscribe newsletter
Subscribe to our email and get updates right in your inbox.
PEOPLE who went above and beyond the call of duty as volunteer stewards were thanked at a ceremony held during a break in proceedings at the Covid-19 Vaccination Centre at Lords Meadow Leisure Centre on Thursday, January 13.
April Tregale, Operations Manager, Mid Devon Healthcare Primary Care Network, said: "Mid Devon Healthcare PCN is made up of five practices in Mid Devon: Bow, Cheriton Bishop, Mid Devon Medical Practice, Wallingbrook (Chulmleigh) and Redlands.
"As a PCN we have been delivering the Vaccination programme to our local population and we could not have done this without the help of our volunteers from Crediton Lions Club, The Rotary Club of Crediton Boniface, Crediton Town Council, the Leisure Centre team and some individuals.
"They have been invaluable to the PCN and community.
"They have been out in rain, hail and sunshine and managed the people who have attended so that the jabbers, the NHS staff, could carry out their work.
"These volunteers presented people in an orderly fashion.
"As practices we didn't think it would go on this long but it came together in a way we would never have imagined."
Dr Jo Harris, GP Partner at Redlands and Clinical Director of the Primary Care Network presented gifts to all the volunteers who were able to attend the ceremony.
She said: "I would like to thank each and every one of you for all you have done during the past 12 months.
"At the beginning we did not know what was going to happen and then came along the Vaccine, which gave us hope.
"That hope we could see in every person's eyes when they came to have the Vaccine.
"It was an amazing effort for you to come together like you did and all our patients should be grateful.
"It is incredible that more than 50,000 Covid Vaccines were dispensed at the Vaccination Centre here at Lords Meadow Leisure Centre.
"We have had more than an 85 per cent take up rate and this high figure is reflected in the lower rates of infection we have seen in the area.
"This has brought joy, freedom and a sense of community and it was through collaboration that this was possible.
"Every one of you should be really proud."
In addition to a gift for each of the volunteers, Dr Harris presented a cheque for £1,200 each to Crediton Lions Club and the Rotary Club of Crediton Boniface.
Hilary Smith, Manager, Redlands, added about the volunteers: "We couldn't have done it without them, they have been truly amazing."
On behalf of the volunteers, Lion Peter Bryan, from Crediton Lions, replied: "Thank you for these gifts.
"When I received a telephone call from Richard Ward from Redlands last January asking if we could volunteer, we never imagined or expected it to be such a challenge.
"Saying this, all of us are immensely proud to have been involved in such a worthwhile cause."
Comments
To leave a comment you need to create an account. |
All comments 0