Fourth time lucky for Matt at 40th Dartmoor Folk Festival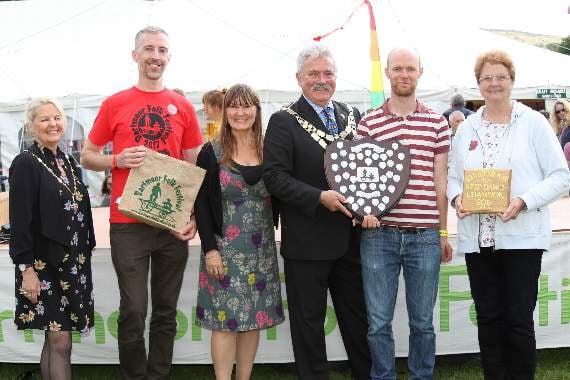 Matt Norman, fifth left, receiving the Dartmoor Step Dance Championship title from the Mayor of West Devon, Cllr Jeff Moody, with from left, Mayoress, Mrs Beverley Moody, championship runners-up Jason Rice and Lisa Sture and right, Shirley Bazeley, president.
Subscribe newsletter
Subscribe to our email and get updates right in your inbox.
IT was fourth time lucky for Matt Norman at the 40th anniversary Dartmoor Folk Festival, held at South Zeal near Okehampton last weekend.
Folk music, song and dance enthusiast Matt, from Bristol, was declared the adult Dartmoor Step Dance competition champion for 2017 after a hotly-fought competition.
Matt, formerly from South Zeal, had previously won the title in 2008, 2011 and 2015 and now equals competitor Lisa Sture, from North Devon, who holds the record for having previously won the title on four occasions.
Matt danced in front of a record crowd on the wagon in the final at the festival.
The Dartmoor Step Dance sees dancers step on a 15-inch square board showing the different steps to try and out-step the previous dancer, until a final champion is decided upon.
Alice Knight (14), from Farnborough, Hampshire, was the Junior winner of the title, explaining that she had watched the competition over several years and learned the steps at workshops run at the festival.
Edward Selwood (11), of South Zeal, was the Dartmoor Broom Dance Champion. Edward said he attended his first broom dance session five years ago. Dartmoor Broom dancing involves dancing with a broom, or rather over a broom, and is for primary school-aged children.
It was 40 years ago that the festival was founded by the late Bob Cann, who lived in the parish of South Zeal.  He had the dream of a folk event on his doorstep that would help to revive and preserve the music, song and dance traditions of Dartmoor.
Thanks to the efforts of Bob Cann, his family and friends, and lately his descendants and a strong committee, with the support of an army of volunteer stewards, the festival has grown into one of the top family-friendly folk events in the South West.
This year it included a packed programme of events and activities suitable for all ages, including a hugely successful children's festival which ran alongside the main event.
There were concerts, a ceilidh, craft displays, dances, dance displays, a Dartmoor Fayre, music hall, pub sessions and music, song and dance workshops and competitions. Free events included a starter's song session, a folk club, a ramble on Dartmoor, a church service and a youth music session.
A rich crop of local and national artists took part during the weekend, and there was a return for many of the favourite artists who had attended previous festivals.
The Dartmoor Fayre on Saturday afternoon was opened by Wendy Beard, wife of the late Tony Beard, who compered the Sunday evening Music Hall for many years. Tony Beard was well-known as an entertainer, was titled "The Wag from Widecome" and was a favourite presenter on BBC Radio Devon.
Mrs Beard said it was a "great honour" to be asked to open the Fayre.
She added: "I had the great pleasure of meeting Bob and Joyce Cann, who with great vision brought the Dartmoor Folk Festival alive with all the old traditions including step and board dancing as well as all that goes with such an event, and it's wonderful to see their family keeping up the tradition.
"Tony was MC for the festival music hall for more than 30 years, until with failing health he had to step down.
"I know how he so very much enjoyed meeting you all every year and, with the closing of each year's festival, would mark the date in his diary for the next one."
She added that she was "very touched" that four of their grandchildren had been asked to take part in this year's Music Hall and said: "Tony would have been so very proud of them, as I am."
Mrs Beard took along Tony Beard's walking stick, which was a memorable reminder.
Tony and Wendy's grandchildren, Oliver, Edward, Heather and Jeremy appeared in the Music Hall performing, along with other tunes, "Blackbird", which they played at Tony's memorial service at Exeter Cathedral in January.
To celebrate the 40th anniversary of the festival, there was an historical display marking the history of the annual event.
A Ruby-red ceilidh saw hundreds of people dressed in red, including the Dartmoor Pixie Band, which played for the event.
The Mayor of West Devon, Cllr Jeff Moody, who attended the festival on Saturday and Sunday, said that the festival was "at the heart of the community" and he was pleased to be able to attend and help present awards.
Shirley Bazeley, president, the daughter of the late Bob and Joyce Cann, said: "It has been a fantastic festival with a real celebratory atmosphere.
"It all went so well and everyone is so friendly.
"Bob and Joyce would be so proud that we have held the 40th festival."
She added: "Hours of work are completed behind the scenes to make sure it all runs smoothly and I would like to thank everyone involved, the association which runs it and the volunteers. We couldn't do it without you all.
"Thanks also to everyone who comes along and we hope you all had a great time."
Mrs Bazeley said she was thanked by one festival-goer.
She explained: "I found it quite emotional but this man came to find me to say it was the 'most family-friendly event he had been to'.
"He said it was unique in that aspect, and I think he was right."
Alan Quick, publicity officer, said: "An action-packed programme was arranged and we had a great anniversary festival.
"Entertainment was arranged for the whole family to enjoy, whether it was to taking part or simply sitting and watching, all very modestly priced, some were totally free, so there was something for everyone.
"The festival is deeply rooted in the heart of the Dartmoor community and is keeping customs and traditions alive.
"Since it was founded the festival has grown so that it can invite some of the best folk artists around, whilst maintaining its reputation for being a relaxed, friendly and traditional event.
"The festival provides a huge economic boost to the area with shops, pubs and bed and breakfast establishments, local suppliers and exhibitors generating tens of thousands of pounds into the local economy.
"This year's festival was one of the most well-attended, some of the concerts seeing sell-out audiences, and the weather was rain-free so all the outdoor activities went ahead as planned.
"The campsite had more than 200 pitches, the craft tent was busy throughout and the caterers were also kept very busy.
"The festival exceeded all expectations. It has been an absolutely fantastic weekend."
Performer Keith Donnelly said it was "the best little festival on the planet".
Festival association chairman Jason Rice thanked all those involved in making the event a success and all those who attended, confirming that the 2018 festival would take place on August 10, 11 and 12.
Comments
To leave a comment you need to create an account. |
All comments 0