Former Crediton school teacher was much-loved and respected
Friday 15th April 2022 10:17 am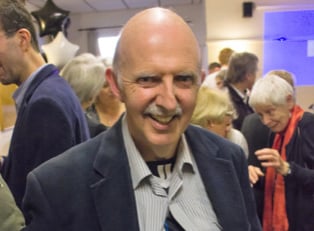 Dave Maddison.
(submitted )
Subscribe newsletter
Subscribe to our email and get updates right in your inbox.
A MUCH-loved and respected teacher and Year Head at Crediton's Queen Elizabeth's School has died, aged 67.
Such was the admiration for Dave Maddison that more than 100 of his family, friends and former colleagues gathered to say goodbye to him at Exeter Crematorium last month.
Dave was born in Birtley in Tyne and Wear and he grew up with the Geordie delights of brass bands, ship launches at the local shipyard and Newcastle United football matches.
His sisters remember a "Mammy's boy" who thought that, after accompanying him to school each morning, his Mam sat on the seat opposite the school doing her knitting to while away the time until he came back out of the school gates!
Thank goodness she didn't, because Dave spent most of the rest of his life in one school or another!
He did well at school himself, passing the 11+ and gaining a place at Chester-le-Street Grammar School and, in time, decided to train as a teacher at Sunderland College of Education, staying on for a fourth year to get a BEd.
Dave began his career as a supply teacher, before securing a post at The Bramston School in Essex, teaching English and History and when Exeter girl, Julie, joined the staff and ended up sharing a house with Dave, she couldn't help but be swept away by his convivial and friendly ways and the wedding – in Pinhoe Church - was a year later!
On deciding to move closer to Julie's family, Dave applied to QE in Crediton. Fellow teacher, Pat Barker, wrote: "at the time of Dave's interview, Mr Rigby asked me to take all the candidates for a walk round the school and to report back my comments. I said we needed Dave and I was so right."
Dave started his contract at QE in September 1979 as a teacher of English and History, and soon also became involved with the Boarding House where he undertook duties as a Housemaster.
Many boarders will have fond memories of his friendly, warm banter while on duty and of his huge games of football on the quad which attracted not only the boarders of both sexes but day pupils and former pupils, which meant it was not uncommon for the games to be 20-a-side!
In his teaching Dave held an unwavering belief in and support for students who were never going to achieve well academically.
He actively sought to provide them with an education which would provide appropriate life chances, initially through the MACOS, City and Guilds and BTech courses, and later through his Head of Year role which lasted from 1996 until his retirement.
Many of his former students went on to be very successful in their lives, at least partly due to the confidence he instilled in them, a strategy he continued at a time when the government was concerned only with the number of students achieving five GCSEs at grade C or above.
The warmth of the very many comments about Dave on a local Facebook page shows how much his students recognised and appreciated his commitment to them.
From 2002 Dave had responsibility for the Pastoral Curriculum and having initiated the BTech residential trip on Dartmoor transformed this into a curriculum development in which every Year 8 student was given a residential experience near Haytor.
His fail-safe method of ensuring no-one got out of bed at night was to sit them around a camp fire in the evening and share ghost stories with them, a strategy which was remarkably effective!
For many students of this era the Year 8 residential is one of the highlights of their time at QE.
Dave's colleagues hugely valued his positivity and his empathetic approach, and he always had time to offer support and advice to younger staff.
His retirement party held in 2014 was attended by numerous friends and colleagues from all of his 35 years of teaching at QE, all of whom wanted to pay tribute to his impact on the education of young people.
More than anything Dave was a family man.
Julie feels lucky to have had such a generous and optimistic husband and his daughters have fond memories of a funny Dad who enjoyed stone rounders at Budleigh and happy holidays; rock pooling and body boarding; of library visits and his ability to find interesting places to explore.
Always enthusiastic about what they were enthusiastic about, he was patient and willing to do a host of boring things on their behalf; from taking Catherine to her part time job at Somerfield, through driving Lizzie to Winkleigh every Sunday to horse ride, to playing badminton in the garden with Jenny.
They had happy childhoods and they are so pleased that Dave got to play football with his grandson, Thomas, and also to meet the newer members of the family: grandaughters, Alice and Robyn.
Dave was catapulted into retirement a little early with a devastating diagnosis of Parkinson's Disease, but, with the mantra, "keep on keeping on", he continued to find great enjoyment in walking to Sandford to watch cricket and playing bowls; reading the "Guardian" from the back cover to the front cover and analysing football match scores; visiting museums and enjoying a meal out, perhaps at The London Inn in Morchard Bishop or at the Beer Engine in Newton St Cyres; seeing Luke Treadaway in "The Curious Incident of the Dog in the Night-time" and watching his beloved Newcastle, even if he had to – being too tight to get Sky – watch it on a Chinese channel with a commentary in Mandarin!
Sadly there came a time when Dave needed to have more expert care; how thankful Dave's family are that they found Lucerne House, with its dedicated and skilful staff.
Dave's family had him longer than they ever dreamed they would and, hard though things were for him, his eyes would still light up when they called or visited until days before he died.
It was at Lucerne House that Dave died on February 10. A Just Giving page set up in Dave's memory raised almost £4,500 for Parkinson's UK, generosity for which Dave's family are immensely grateful.
Comments
To leave a comment you need to create an account. |
All comments 0