A variety of trees planted in Crediton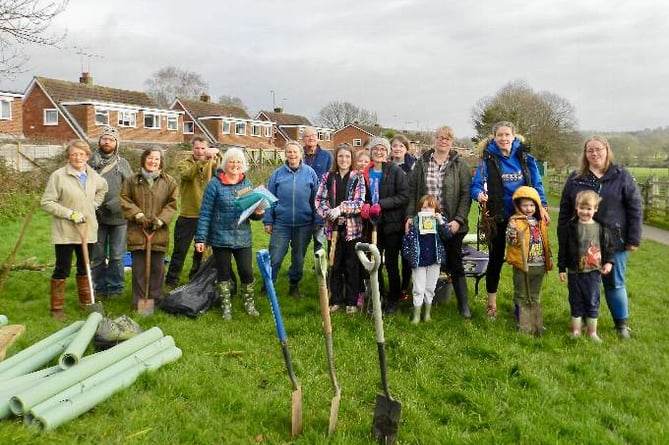 Members of Sustainable Crediton and some of the volunteers who turned-up to help plant trees. NP 230222 02
Subscribe newsletter
Subscribe to our email and get updates right in your inbox.
Members of Sustainable Crediton gave a demonstration to a group of 35 volunteers, explaining the order of how best to plant and protect the trees.
Sustainable Crediton member, Caroline Romijn said: "We were absolutely delighted to welcome a great team of 35 volunteers to help plant the trees.
"This included 14 enthusiastic young people who opted to volunteer as a positive half-term activity.
"The trees should grow into a very pleasant copse, standing between the tennis courts and the perimeter hedge.
"A smaller number of trees were planted in other parkland: 20 in the small park above Greenway, 20 in Beacon Park (off George Hill) and 25 in the woodland area off Southfield Drive.
"All-in-all a very successful morning.
The trees, a variety of Hornbeam oak, cherry, rowan, alder, aspen, goat willow and black thorn were planted two metres apart and away from the path allowing vehicular access.
Laura Conyngham of Sustainable Crediton said: "The tree planting was terrific fun and brilliantly organised in several locations by Caroline Romijn for Sustainable Crediton.
"Word had been spread through the 'Courier', Next Door and Facebook.
"It felt at last as if Sustainable Crediton had reached our longed for 'tipping point' as more and more people take action in response to the Climate Crisis.
"At the end, a ceremony was held and young people were presented with their own Crediton Tree Hero certificate."
Jason Ball, Climate and Sustainability Specialist said: "Mid Devon District Council is grateful for the support of volunteers helping to plant 615 trees on Council land – made possible by Devon County Council's Emergency Tree Fund, a generous grant provided by The Woodland Trust.
"These trees will capture carbon and boost biodiversity for many years to come. Thank you to all involved!"
Anyone wishing to get involved in Sustainable Crediton can find out more by joining the group's Facebook page or by subscribing to the newsletter by emailing: [email protected] .
Comments
To leave a comment you need to create an account. |
All comments 0