FOR 43 years Bridget Merrett has been teaching in primary schools.
For the last 28 she has been at Hayward's Primary School in Crediton, retiring at the end of the last term.
She grew up in Plymouth and trained at Keswick College of Education the University of East Anglia in Norwich.
Her first teaching job was at Foxhayes First School in Exeter, then she moved to Sidwell's Combined School, then Cowick First School and Pinhoe Primary School before arriving at Hayward's.
Among the many changes she has seen, Mrs Merrett was among the staff who worked all through the building work.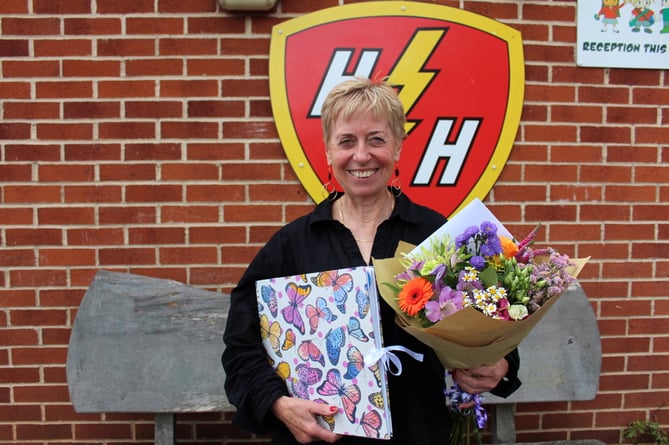 Mrs Bridget Merrett. SR 8428
(Crediton Courier)
When she first went there pupil numbers were 274, now it is nearer 400.
People who knew the old school would probably not recognise much of it now. 
"Through it all, changes in education and the school, Hayward's has maintained its very special ethos.  Everyone who walks into the building finds it unique and special, which makes it such a special place in which to work," she said.
A keen runner, Mrs Merrett has run the London Marathon and Dublin Marathon as well as numerous half marathons.
She had the whole school running on one occasion raising £3,000 for CLIC Sargent, now Young Lives vs Cancer. 
Mrs Merrett has lived in Sandford for 34 years, she sings in Sandford Community Choir and is also a member of CODS and has been in various musical and pantos.
She had thought something might happen at the end of term, but never expected to receive as many cards and gifts including a large bouquet, a book with messages from the children and a lovely big pottery plate made by a member of staff.
"It was so lovely," she said. 
She is looking forward to spending more time with her children, Robin and Chris and her five grandchilden.