ON Wednesday, September 10, the School Council from Cheriton Fitzpaine Primary School visited the Crediton Tesco store to help customers pack their bags and promote the new Stronger Starts blue token scheme, of which Cheriton Fitzpaine is one of the current entrants.
This year, the school is hoping to develop its outside environment to enable improvements to the outdoor learning curriculum.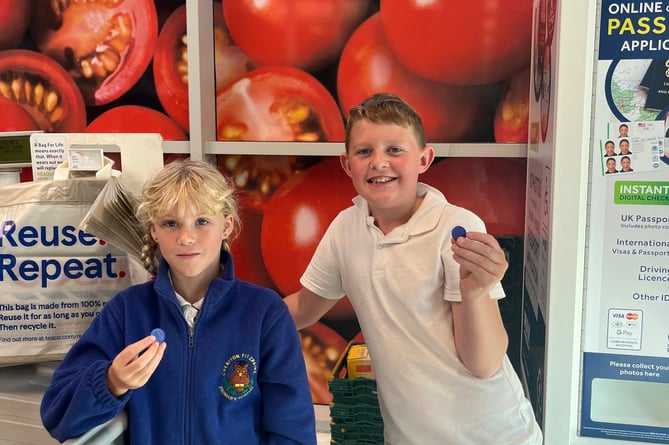 With some of the Tesco blue tokens.
(Cheriton Fitzpaine Primary School)
The Exe Valley Federation has appointed a Lead Teacher for Outdoor Learning, who, alongside leading moorland walks and residential visits, is running outdoor learning days for all children and supporting teachers in leading outdoor learning projects. Cheriton Fitzpaine Primary School is hoping to build an outside classroom and learning space which will be used to deliver the curriculum outdoors, as well as providing a quiet, safe space for children to use.
The school's PTA is focusing its fundraising efforts on this project and says that any funds awarded from the Tesco Stronger Starts will make an excellent start.
A spokesperson said: "This round of the blue token scheme runs until the end of the month so there is still time to pop your blue tokens in!"