Devon motorists advised of trial run of wind turbine delivery this Thursday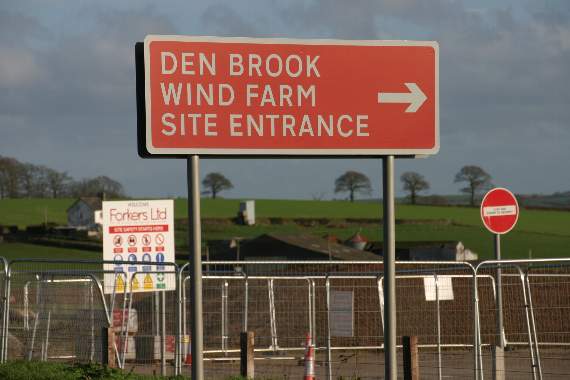 The entrance to the Den Brook wind farm site off the A3072 between Bow and North Tawton. AQ 8767
()
Subscribe newsletter
Subscribe to our email and get updates right in your inbox.
A TRIAL run of the delivery procedure of a wind turbine for the Den Brook Wind Farm will take place during the morning of Thursday, March 31, local motorists are warned.
The vehicle will be met by a Police escort, just off the M5 in an abnormal load lay-by between junctions 30 and 31, and follow the access route agreed as part of the planning consent (via the A30, A382, A3124 and A3072) to the wind farm site between North Tawton, Spreyton and Bow.
Renewable Energy Systems Ltd (RES) was granted consent for the wind farm in 2009 and construction began in July 2015.
The plan includes nine 75-metre hub height 2 MW V90 Vesta turbines (120-metre total turbine and tip of blade height) which RES say will produce 18 MW of power, enough for 9,000 UK homes, when installed.
Foundations have been virtually completed for the turbines on the site as well as 6.5km of on-site roads.
There will be a 33kv grid connection running from the site to connect behind the North Tawton Cheese Factory.
RES installed recently a new road junction at Whiddon Down, which was built to ease the delivery of the turbines.
Some "teething" problems with the junction resulted in some criticism of RES.
RES say all the ground works on site should be completed next month. It says the turbines will be delivered by ship to Teignmouth and then transported by road in July.
Each one has three tower sections, three blades, a nacelle and hub.
Completion is expected to be in November 2016.
At a meeting of the Den Brook Wind Farm Community Liaison Group (CLG), held at Spreyton Village Hall in February, Tony Hill, from the Exeter/Okehampton Rail Consortium, raised the long-standing issue which has been raised many times before.
He said: "In the last 11 years there has been many instances of turbines falling over and blades falling off.
"The Department of Transport says turbines should be sited their height plus 50 metres from roads and railways."
He said RES had "pushed under the carpet" the issue that one turbine, if it fell over, could fall directly onto the Exeter/Okehampton rail line.
Mr Hill added that this line could see increased use if the "Dawlish effect" resulted in future further increase of traffic on the line.
He then called on RES to move construction of the turbine in question away from the rail line.
RES said that in a report it commissioned, the findings showed the likelihood of debris from a hypothetical blade failure striking a train to be one in around 100 million years and the likelihood of turbine debris from a hypothetical failure or collapse being on the track to be once in around 50,000 years or once in around 17,000 years respectively. For context the report deemed the likelihood of a tree fall impacting the railway is one in around a 730-year chance.
The impact on the railway was considered fully during the planning process and the planning inspector found any likelihood of collapse extremely remote.
There have been long and frank discussions about potential noise issues from the turbines when constructed.
Dave Sexton, from West Devon Borough Council, the planning authority, said at the February 16 meeting of the CLG, that he believed the conditions imposed upon RES were "technically robust" and that WDBC was happy to approve them.
Discussions included both tonal noise and AM noise and complaint procedures should there be noise issues.
Complaints and compliance were discussed in detail and there were questions over whether sound would be "filtered" as recorded.
Once operational, RES says the Den Brook Wind Farm will provide a Community Benefit Fund of £36,000 per year, index linked, to support local social and environmental projects. The Community Benefit Fund is part of a community benefits package totalling £90,000 per year.
Representatives from the parish/town councils of Bow, Spreyton, Zeal Monachorum, South Tawton and North Tawton will administer the Fund and make decisions about which local projects to support. The funding will become available soon after Den Brook Wind Farm becomes fully operational.
A Local Electricity Discount Scheme (LEDS) is expected to save at least £100 per year per household off the electricity bills of local residents.
Comments
To leave a comment you need to create an account. |
All comments 0