Defra confirms 'devastating' avian flu in the Crediton area
By 
Alan Quick
  |   Editorial Manager/Photojournalist   |
Saturday 16th April 2022 6:00 am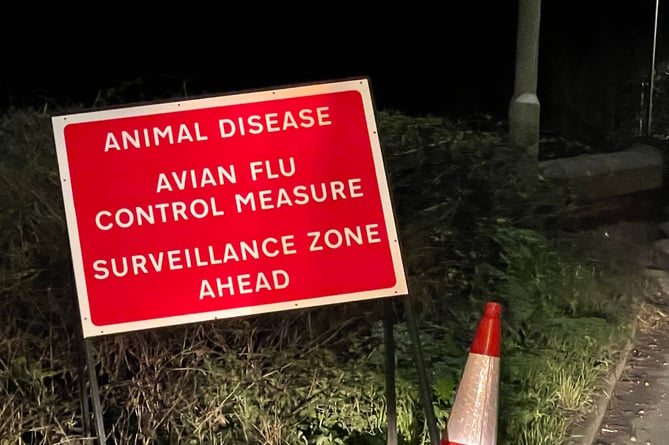 One of the warning signs on the A377 near Newton St Cyres. AQ 5807
(Alan Quick, Crediton Courier )
Subscribe newsletter
Subscribe to our email and get updates right in your inbox.
THE public has reacted with support and sympathy, as well as financially, after a local business was seriously impacted by avian influenza.
On Wednesday, April 6, avian influenza (H5N1) was confirmed in a bird at a premises at Newton St Cyres, and another suspected case at a premises near Tedburn St Mary.
All birds on both premises were due to be humanely culled.
A 3km protection zone and 10km surveillance zone has been placed around the Newton St Cyres premises and a 3km Temporary Control Zone and 10km Temporary Control Zone was placed around the Tedburn St Mary premises.
This week it was confirmed that the Newton St Cyres outbreak was at Moon Ridge Farm, a poultry and other animals farm, run by Merv and Kate Anstey with help from their children Will and Meg.
Kate took to social media and said: "We have now closed Moon Ridge Farm for trade as we have unfortunately had avian flu so all our birds have been culled.
"We are not sure when we will be able to trade as a poultry farm again and if we will.
"We are currently dealing with Defra which takes a lot of patience, time and energy.
"We are obviously devastated and we are going  to take some time out to decide our next move.
"We would just like to thank all of our customers and suppliers for their support and good wishes. This is not the end of Moon Ridge so do keep an eye on our (Facebook) page.
Since that time Kate's friend, Sarah Garnsworthy, set up a JustGiving crowdfunding page to raise money for the business.
Kate added on social media: "It is truly devastating as we started this business from nothing, no land, no premises, not even a real hot as we were in tied accommodation.
"Merv has put his heart and soul and his life since 2000 into making this business what it is.
"It is all Will and Meg have known and since 2004 been my work life too."
The JustGiving page was set up to raise £500 but already stands at more than £1,200.
Sincere messages include an anonymous post which reads: "This family and business mean a great deal to so many.  They are fantastic people, and I know they have the resolve and the ability to pull through what seems right now to be a bleak and terrible time."
The UK is said to be experiencing its largest ever outbreak of avian influenza.
Strict rules and regulations are in place for all bird owners and these are increased for all those with birds within the Protection and Surveillance zones.
The eggs in shops from previously free-range birds are being labelled as "barn eggs" due to birds being kept inside for more than 16 weeks.
In addition to these incidents, there have been reports of dead birds in the Crediton area, most recently of fishermen removing dead swans and geese from the lake at Shobrooke Park.  Those walking to and from Shobrooke Park are advised to note the following details.
The Courier has been told that Defra has been to remove the carcasses of those retrieved from the lake in the last few days.
POULTRY OWNERS REMINDED TO TAKE 'MEASURES'
Bird flu is a notifiable animal disease and the Heart of the South West Trading Standards Service is reminding all keepers of poultry that they are legally required to take measures to reduce the risk of bird flu spreading.
If you suspect any type of avian influenza in poultry or captive birds, you must report it by calling the Defra Rural Services Helpline on 03000 200 301.
If you find dead wild swans, geese or ducks or other dead wild birds, such as gulls or birds of prey, you should report them to the Defra helpline (03459 33 55 77).
Do not touch or pick up any dead or visibly sick birds that you find. For further information go to Defra's advice to the public page: https://www.gov.uk/guidance/avian-influenza-bird-flu#public .
All bird keepers must follow strict biosecurity measures which include:
• Disinfecting all vehicles which have been transporting poultry and disinfecting all crates, containers, plastic egg trays and other equipment before and after use.
• Keep farm access routes, parking areas, yards, areas around buildings and storage areas clean and tidy and well maintained,
• Keep all poultry houses or sheds well maintained to ensure that wild birds do not nest or roost in them.
• Keep wild birds, dogs, cats, rodents, and other livestock out of poultry buildings and feed stores.
Matthew Fogaty Lead Officer for Animal Health and Welfare at Heart of the South West Trading Standards Service, said: "Whether you keep just a few birds or thousands, poultry keepers are legally required to meet the enhanced biosecurity procedures to protect their birds from this highly infectious virus.
"We are responsible for enforcement of these legal requirements and our officers are working hard to help and advise poultry keepers.
"We recommend all poultry keepers sign up to the Defra poultry register and the disease alert service where they will receive regular text updates."
The UK's Chief Veterinary Officer Christine Middlemiss is urging all poultry keepers not to be complacent and to continue following the urgent biosecurity measures needed to keep their birds safe and help stop the spread of bird flu.
She says that the UK is tackling its largest ever outbreak of bird flu with more than 100 cases confirmed across the country since the start of November.
To help mitigate the spread of disease, the Government introduced new housing measures on November 29, 2021 which means that if you keep chickens, ducks, geese or any other birds you are now legally required to keep them indoors and to follow strict biosecurity measures. If you do not do this, the disease could kill your birds and you could be fined.
Wild birds migrating to the UK from mainland Europe during the winter months and other wildlife spread the disease so it is vital to not allow wild birds to mix with your chickens, ducks, geese or other birds.
People can also spread the disease on their clothes and shoes so before going into bird enclosures you should wash your hands, and change or clean and disinfect your footwear.
Public health advice remains that the risk to human health from the virus is very low and food standards bodies advise that avian influenzas pose a very low food safety risk for UK consumers. Do not touch or pick up any dead or sick birds that you find and instead report them to the relevant helpline below. There is no impact on the consumption of properly cooked poultry products including eggs.
The Chief Veterinary Officer is reminding all poultry keepers that whilst the main source of infection comes from migratory wild birds, those failing to implement these measures risk infecting their own flocks by walking the virus into their holdings. Keepers should therefore continue to follow the strict biosecurity measures in place to limit the spread of and eradicate the disease.
Christine Middlemiss said: "We have taken swift action to limit the spread of the disease including introducing housing measures. However we are still seeing a number of bird flu cases both on commercial farms and in backyard birds right across the country.
"Many poultry keepers have excellent biosecurity standards but the number of cases we are seeing suggests that not enough is being done to keep bird flu out. Whether you keep just a few birds or thousands you must take action now to protect your birds from this highly infectious disease.
"The avian flu outbreak has not gone away and implementing scrupulous biosecurity remains absolutely critical. You must continue to regularly clean and disinfect your footwear and clothes before entering enclosures, stop your birds mixing with any wild birds and only allow visitors that are strictly necessary. It is your actions that will help keep your birds safe.
"The legal requirement to house birds and to step up biosecurity measures will remain in force until further notice but be kept under regular review as part of the government's work to protect flocks.
"Avian influenza is in no way connected to the COVID-19 pandemic, which is caused by the SARS-CoV-2 virus and is not carried in poultry or captive birds."
You can sign up to Defra's alerts service: https://www.gov.uk/guidance/apha-alert-subscription-service .
Comments
To leave a comment you need to create an account. |
All comments 0