County helps 15 rural shops to keep PO services
Monday 9th March 2009 12:00 am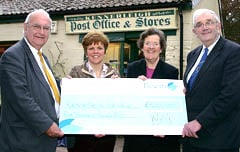 Kennerleigh Post Office, run by Sonia Andrews, second left, has received funding for three years from Devon County Council, presented by, from left, Cllr Brian Greenslade, pictured with Cllr Michael Lee right, and Mid Devon District Council Chairman, Cllr Margaret Squires. AQ 3832
()
Subscribe newsletter
Subscribe to our email and get updates right in your inbox.
The shops, including Kennerleigh Post Office and Stores, are being given annual grants of £5,000 by Devon County Council for the next three years plus free business advice to enable shop owners and managers to revise their business strategies after the removal of support from Post Office Limited (POL).
All 15 faced possible closure after last year's changes to the Post Office network.
The Post Office shops being supported are: Ashwater, Blackawton, Bridgerule, Bridestowe, Cheriton Fitzpaine, Chillaton, Dittisham, Kennerleigh, Lustleigh, Milton Abbot, Newton St Cyres, Plymtree, Postbridge, St Giles on the Heath and Widecombe in the Moor.
For the rest of this story please purchase the Crediton Courier from your nearest outlet.