Cheriton Fitzpaine WI 'Calendar Girls' floral arrangement admired
Sunday 2nd June 2019 10:30 am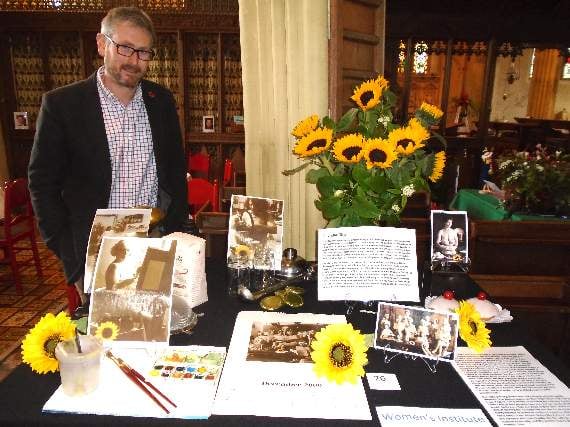 Charles Sheldrick, Chair of Cheriton Fitzpaine Parish Council, admires the "Calendar Girls" arrangement made by WI member Mary Burchmore for the church flower festival.
()
Subscribe newsletter
Subscribe to our email and get updates right in your inbox.
AT the annual meeting of Cheriton Fitzpaine WI, held in May, the speaker was local historian, Elly Babbedge, who talked about Richard Becklake, the son of a weaver living at Hittisleigh.
Richard was apprenticed to his father, but soon obtained work as a footman in Crediton. There he overheard many conversations and began to aspire to the high life. Knowing of a local family at Great Bidlake Hall, he changed his name and managed to get the Vicar to alter the Parish Register, claiming that the original entry was wrong.
He was now Richard Bidlake and claimed to have a right to inherit the great house. Moving to London, he became an accomplished fraudster and confidence trickster, persuading tradesmen and gentry to lend him money on the strength of his expected inheritance.
In 1775 he was finally arrested, and tried, although even then he managed to escape. One imagines him to be a commanding figure, but in fact, he was only 4ft 10ins. Elly discovered this fascinating tale whilst researching for a book about the Manor in the National Archives.
We also welcomed Ros Crook, DFWI advisor, who came to the meeting, and discussed the two Resolutions to go forward to the National Meeting: "Don't Fear the Smear" and "A Call against the Decline in local bus services".
President ,Thelma Keeble, thanked all the Officers and Members for their help during the year, but unfortunately due to falling membership and the age of our members, it seems likely that we shall have to suspend the group at Christmas.
Meanwhile, Mary Burchmore will continue as Treasurer, and Mary Nunn as Secretary.
Mary Burchmore had volunteered to do a flower arrangement for the St Matthew's Church Flower Festival, and she chose to use sunflowers to illustrate the film "Calendar Girls".
The finished arrangement was very clever, and attracted a lot of attention.
Our next meeting is on Wednesday, June 19, at 2.15pm in the Parish Hall, when Alex Leger will talk about Blue Peter "Behind the Badge". Visitors are welcome at £3.
Comments
To leave a comment you need to create an account. |
All comments 0