Birthday party for Craig Dennis at North Tawton RFC raised thousands of pounds
By 
Alan Quick
  |   Editorial Manager/Photojournalist   |
Thursday 19th September 2019 1:49 pm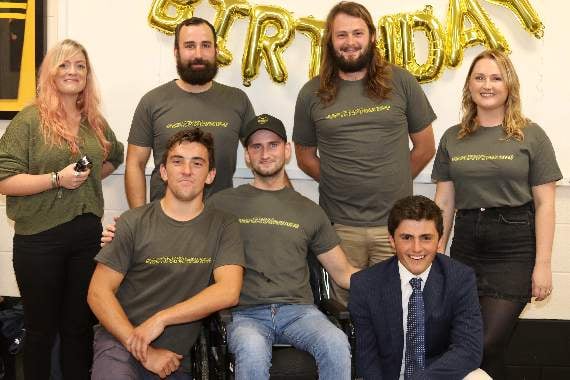 Before the headshaves and trims, from left, hairdresser Louise Browne, Alex Dennis, Sam Bullingham and Chloe Dennis and front, from left, Matt Baker, Craig Dennis and Guy Hamer who completed the charity walk. AQ 4269
Subscribe newsletter
Subscribe to our email and get updates right in your inbox.
A BIRTHDAY celebration for Craig Dennis, who has been left paralysed from the waist down following an accident which left him with life-changing injuries, has resulted in thousands of pounds being raised towards his on-going treatment and rehabilitation appeal.
Held at North Tawton Rugby Club, where Craig is First Team Captain, he and his wife Chloe and family and friends were joined by fundraisers who have raised vast sums towards his appeal.
It has been a remarkable journey for Craig, who was there to celebrate his 26th birthday, because it was only 76 days previously that he had fallen from a roof whilst helping on his parents farm at North Tawton, sustaining multiple injuries.
The party began with the arrival of Guy Hamer (18), from Dawlish, who had undertaken a sponsored walk in aid of Craig's appeal fund.
Rugby-player Guy, who had not met Craig until the party, had visited rugby clubs at Penzance, Veor, Lanner, Truro, Liskeard, Tavistock, Plymstock, Paignton, Torquay, Topsham, Exeter Athletic, South Molton and Bude before arriving at North Tawton that evening.
He had walked 253 miles in nine days and was greeted with tremendous applause and and handshake from Craig.
Guy said: "It has been the most tiring thing I have ever done but Craig was my inspiration. Prior to this I didn't know him but we have talked on the phone and I have raised more than £1,000 towards his fund."
Also during the evening Matt Baker had his hair and eyebrows shaved, Alex Dennis had half of his beard shaved and Sam Bullingham had his head and beard shaved.
Between them they raised thousands of pounds.
Chloe Dennis thanked Guy Hamer for his support by walking to the 14 rugby clubs in nine days.
She described it as one of the most courageous and kind hearted offers of support she and Craig had received.
She presented gifts to Guy and those who had been shaved during the evening.
She commented how Craig topped the tough list.
In her speech Chloe said: "A fall from 20ft onto concrete below resulting in a severe brain injury with scarily high brain pressures and the fear of brain damage more likely than not, two vertebrae's compressing on the spinal cord causing paralysis from the waist down, three other fractured vertebrae's, two broken ribs, many fractured skull bones, a significant blood clot within one of the main Venus veins that drains from the brain, three near cardiac arrests, pneumonia and lots of other complications and here we are 76 days later and Craig looks absolutely amazing.
"If I hadn't have been there every scary day of the way I'd find it quite hard to believe that he could of possibly been through all of it because he looks so well, and the fact he's still managing to hold onto that tan some might even think he's been off on a nice long holiday! But sadly I've got the under eye bags as proof of very little sleep, a whole lot of worry and sadly no sunny get away!
"Give Craig a record and he is normally pretty determined to beat it.
"In his youth Craig was an incredibly talented athlete excelling in triple jump and sprinting and I believe he still holds some of these records 10 years later.
"He has also had his fair share of top try scorers and many other rugby related records, which I'm sure some of which are probably drinking related!
"But I think you will all agree with me that the most honourable record he now holds under his name is the quickest discharge from spinal rehabilitation that Salisbury spinal unit has ever seen. On admission and with the nature of Craig's injury the average rehabilitation time would be a minimum of 12 weeks with some patients spending over a year or more in rehab, however Craig was discharged yesterday just four weeks after he was admitted, which is probably the best birthday present for Craig any of us could have wished for.
"I'm sure this is just the start of what records and goals Craig can set, achieve and smash on this new journey we are encountering and I am so excited to see what the future holds, sometimes life throws some crazy and seemingly unfair things our way, but then amongst these crazy times a small flicker of hope comes, that small flicker happened the moment Craig woke up on July 22 himself, with no brain damage, already defying the statistics that said he may not survive and the statistics saying that he would be significantly brain damaged.
"At the minute all of the statistics put in front of us, Craig is proving wrong and I am sure, actually I am certain he will continue to keep proving that he's much stronger and more determined than the 'statistic' because I know he's got it in him.
"Finding the words to say how proud I am of him, is near impossible and I genuinely don't think he realises how much he has achieved. However it's everything I knew he could do and more."
Chloe continued: "The support, love and generosity we have been shown from so many people has been a huge factor in motivating Craig and keeping him positive every step of the way. We honestly don't know how to go about thanking everyone but hope that seeing how much Craig has achieved will go a long way in showing our appreciation.
"From the moment Craig's accident became public the offer of love, support and help has been truly overwhelming.
"Everyone says that the rugby community is more of a family and I honestly can now see it, we have received so much from so many different clubs and players.
"North Tawton have been amazing in keeping Craig motivated, and have hosted this evening which I'm sure you will all agree has been a huge success. I know Sarah (Quick) won't want to take any credit for anything, but she does so much for the club and has helped me in organising the celebrations tonight. So please give a round of applause for Sarah and the rugby club."
Chloe also commented how it was her mother's birthday and thanked both Craig's parents and her own parents for the support they had received.
She concluded: "We are so lucky Craig has been able to be discharged as quickly as he has and that is because we have a downstairs bedroom and fully accessible wet room being built as we speak within my parent's house.
"This will take a major stress off rushing to get our house adapted and allows us time to adjust to everything with help and support around both of us day and night."
Less than 24-hours after Chloe launched the crowd funder page, an amazing £15,000 of the £75,000 target was raised and this now stands at £42,000.
The family have been overwhelmed by people's generosity and offers to help with fundraising events.
The couple have been together since they were 16, marrying four years ago. They both come from farming backgrounds and also have the support of that close-knit community.
Comments
To leave a comment you need to create an account. |
All comments 0