Basketmakers SW hold annual meeting at Whiddon Down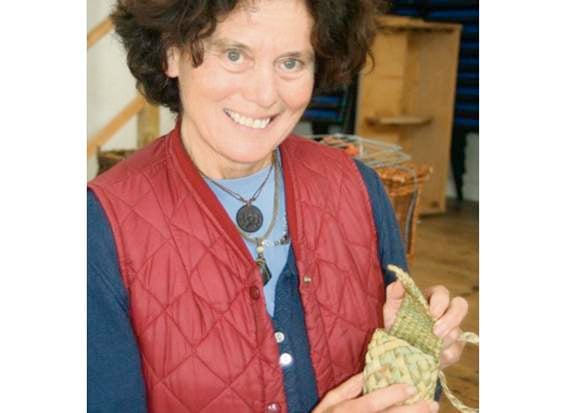 Part of Linda Lemieux's display at the annual meeting was this small rush pouch she is showing, the sort of thing children might make at an event, or really useful for storing small objects or with a present inside. SR 8386
Subscribe newsletter
Subscribe to our email and get updates right in your inbox.
MEMBERS from Bristol and into Cornwall were at Whiddon Down on Thursday, October 12 for the annual meeting of Basketmakers South West.
This group brings together craftspeople who are interested in the practice and history of basketry, rushwork, chairseating, willow sculpture and related crafts.
Historical research is a growing interest among members, it is thought to be a skill older than pottery but, being what it is, not many examples survive hundreds of years.
The group has nearly 100 members with courses, share days plus demonstrations and attendance at fairs and other events.
At the annual meeting member Hilary Burns from Paignton was showing a replica of a World War One pigeon carrier she had made. It would take four birds and could be carried on the back of a motorcyclist.
Hilary will be showing her work in November at a two-day event at Castle Donington, Leicestershire as part of the World War One research project Basketry Then and Now. To find out more visit the website: everydaylivesinwar.herts.ac.uk .
She was also showing a linen basket made at the Dryad factory in Leicester around 100 years ago. This had come to Hilary for repair, its owner telling her it had belonged to her grandmother and as children she and her sister used to get inside the basket and jump up and down.
Hilary said that Leicester used to be the willow-growing centre, hence the factory where the linen basket was made. Her World War One research had taken her to the Dryad factory website where she had found a catalogue that included the linen basket.
Another member, Linda Lemieux from Chagford, was showing some of her work. Linda is a founder member of this group. Until recently she had a shop in Chagford, she lives not far from the town.
Linda said she loves teaching children the connection with nature and runs four wilderness skills days and camps showing children how to use a knife and axe safely, woodcarving, basketry, camp fire cooking and more.
Among her work on show were several small pouches and boxes made from rush that Linda harvest in Somerset, making her own coracles to take on the water for the harvest.
Several members helped at the three-day Woodfest, part of RHS Rosemoor Festival of Trees. The Festival was sponsored by Stihl.
The Basketmakers stall was organised by Maggi Rogers. As well as seeing examples of members work, people were able to have a go or just handle the materials.
Maggi said people found it interesting because everyone's style was different. She added that it was good to have members able to share their knowledge and enthusiasm and how to make a simple item.
With her were Richard and Sue Kerwood from Aylesbeare, Richard showing his giant willow compost bin and the willow woven edging hurdles for the garden.
Sue said the compost bin can either be lined or let it degrade with its contents over time.
If you would like to receive a complimentary PDF version of the latest newsletter please email: [email protected] .
Comments
To leave a comment you need to create an account. |
All comments 0