Anger after anti-vax campaigners targeted children in Crediton
By 
Alan Quick
  |   Editorial Manager/Photojournalist   |
Thursday 16th September 2021 1:14 pm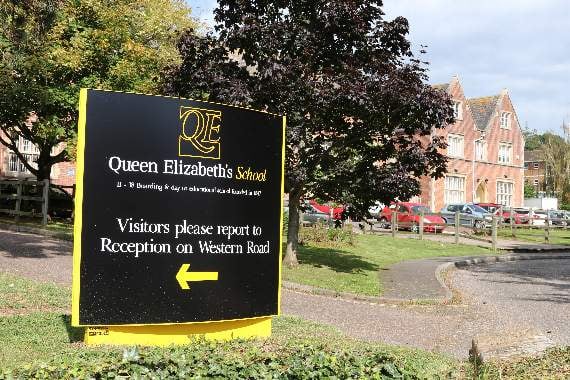 Anti-vax campaigners targeted children leaving QE School on Wednesday, September 15.
()
Subscribe newsletter
Subscribe to our email and get updates right in your inbox.
THERE has been condemnation of anti-vaccination campaigners who targeted children leaving a Crediton school yesterday, Wednesday, September 15.
Children who attend Queen Elizabeth's School in Crediton were faced by five protesters with banners handing out leaflets on St Lawrence Green and in the High Street as they walked home from school at the end of the day.
Parents who have been in touch with the "Crediton Courier" expressed their anger about the "targeting of children" and also said that "it was out of order".
QE principal Rupert Poole spoke with the protestors and it is understood that most of the children refused to accept the leaflets the protesters were trying to give out.
In addition, some of those who received leaflets gave them directly to staff or parents at the scene.Mr Poole, told the "Crediton Courier" "Whilst we recognise people's right to protest, we also have a duty of care to our students.  "These flyers were handed to students once they had left the school premises and we would like to make it clear to parents that they do not in any way represent the views of Queen Elizabeth's School."Regarding the vaccination programme which was recently announced for 12-15 year olds, our school will be working within government guidance and protocols and in partnership with public sector partners but, like all schools, we do not have responsibility for the administration of the vaccine."
The County Councillor for Crediton, Frank Letch, was alerted to the incident and said: "I forwarded a complaint to Devon County Council who have escalated it to the Head of Education and Learning who will, no doubt, be advising Head Teachers throughout Devon of the possibility of protests at their school gates."
Over this summer the Government Joint Committee on Vaccination and Immunisation and the Chief Medical Officers have been advising whether Covid vaccinations should be offered to children and young people.
They said that while the earlier phases of the vaccination programme prioritised some specific groups of children and young people who were clinically vulnerable i.e. those who are 16 years and over in an at-risk group (as defined by Table 3 of the Green Book), since July, the Joint Committee on Vaccination and Immunisation (JCVI) and the UK Chief Medical Officers (CMOs) have been advising on how the Covid vaccination programme may be applied more broadly to children and young people. We've summarised their advice here.
The following groups will be offered two doses of the Pfizer BioNTech vaccine:
• 12-15 year olds who are increased risk of serious Covid-19 disease and hospitalisation in the following groups: 
• those with severe neuro-disabilities
• those with immunosuppression
• those with Down Syndrome
• those with profound and multiple learning disabilities, severe learning disabilities, or on the GP learning disability register 
• haematological malignancy
• congenital heart disease
• other health conditions as described by JCVI.  The Green Book has been updated and provides full details on the eligible clinical groups.
• 12-17 year olds who are household contacts of people of any age who are immunosuppressed
• Those turning 18 in the next three months
• Those 12-17 year olds not covered by any of the categories above, and not vaccinated in earlier phases of the programme, will be offered a single dose of the Pfizer BioNTech vaccine. 
JCVI will provide further advice regarding details of second doses for this group once more data has been analysed. This is expected in the autumn for 16 and 17 year-olds and in the spring for 12-15 year-olds.Mel Stride, MP for Central Devon said: "The anti-vax movement are plain wrong and are getting in the way of providing full protection against the virus across society. "Targeting school children in this way is especially disappointing."
• What do you think of the targeting of children by Anti-Vaccination campaigners?
Share your views with fellow Courier readers. Send a letter with your name and address and a telephone number to: The Editorial Manager, Crediton Courier, 102 High Street, Crediton EX17 3LF.
Alternatively, email, with your name, address and a telephone number: [email protected] .
Comments
To leave a comment you need to create an account. |
All comments 0