Amber Foundation wins bid to help local young people with housing support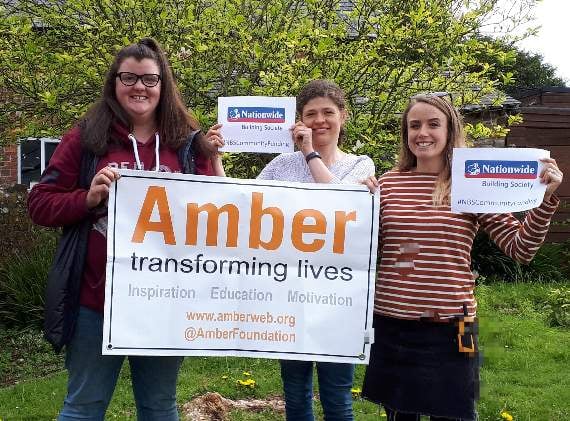 Pictured from left, Amber resident Briony, Rebecca Fry, Fundraising Manager and Vicki Carney, Team Leader.
()
Subscribe newsletter
Subscribe to our email and get updates right in your inbox.
THE Amber Foundation, a charity working locally in Chawleigh, is celebrating after making a successful bid for funding from Nationwide Building Society.
The funding will be used to support homeless unemployed young people in the area get back on their feet and move on to bright independent futures.
Nationwide, the UK's biggest building society, has been looking to support charities dealing with the many issues around housing in the South West area, and made a total of £500,000 available to help make a difference across communities across the region.
At Ashley Court, in Chawleigh, Amber gives young people a temporary home and a programme of support that focusses on each person's strengths and gives them the motivation and skills to move on to sustainable accommodation plus a job or a place at college or university.
Nationwide will be funding a Team Leader in Devon to help young homeless people transform their lives and futures for good.
Connor Sams-Hurst, 23, who recently left Ashley Court with a flat and a full-time job as a security officer said: "My team leader has been amazing, so helpful and enthusiastic…she helped me see a future, find what to do and achieve it.
"I'm really grateful for the support I've had from her and from Amber because without it I really think I'd be dead."
Rebecca Fry, Fundraising Manager at Ashley Court, said: "Connor's words speak for themselves. Our Team Leaders are central to what we offer to our young residents who have, for whatever reason, lost their way.
"For every young person like Connor we support we have to raise £5,000 to ensure they have the support, guidance and reassurance so they can make the changes they need to move forward positively so we are extremely grateful to Nationwide Building Society for their support."
Nationwide invited applications for grants for housing projects that have the potential to strengthen communities and help make a difference in local areas, ranging from innovative new housing, improving conditions, to supporting the most vulnerable. Applications were accepted from across the South West area.
Dan Still, Nationwide's Regional Director for the South West, said: "We know that there are many people who have been homeless or have experienced family or close friends without a home of their own, so it's imperative that we do something about this.
"Helping people into homes of their own is at the heart of what we do as a building society, which is why we're making funding available for local housing projects. In fact, we're making £22 million available for the next five years across the UK to do just this and ensure everyone has a place fit to call home."
A Community Board of Nationwide members, employees and local housing experts was appointed to have a say on which local community projects were supported.
For more information on Amber and how local people can get involved please visit: www.amberweb.org or contact Rebecca on telephone 01769 582020 or email: [email protected] .
Comments
To leave a comment you need to create an account. |
All comments 0