A30 noise issues still a problem for Tedburn St Mary and Pathfinder residents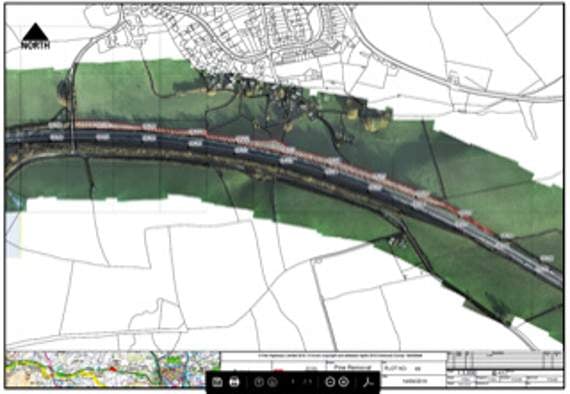 A Highways England image of where the works are taking place near Tedburn St Mary.
()
Subscribe newsletter
Subscribe to our email and get updates right in your inbox.
WHILE rows of trees are being planted along the A30, why not take the opportunity to resurface the road with a special, quieter surface?
This is one of the questions Highways England was being asked after an open meeting in Tedburn St Mary to talk about the noise of A30 traffic since trees were cut down by Highways England this year.
Highways England had told people that because they can now see the traffic, their perception of the noise was higher. People disagreed, feeling that Highways England was being patronising.
At the meeting one woman who moved early this year to a house near the village overlooking the road, said the noise was worse when the trees were cut.
Others said they could not open their bedroom windows at night because of the noise, however hot the weather, nor could they relax in their gardens any more. This was from people who have lived with the road for a number of years.
Tedburn Parish Council chairman, Linda Bellshaw, explained that the meeting had been set up by the parish council in response to village residents saying that the noise from the road now was "dreadful", with Pathfinder people saying the same.
Representing Pathfinder was Cllr Margaret Jones who also spoke about the increased amount of traffic and that since the trees and bushes were cleared the road noise was "substantially worse".
A petition asking for action to reduce the level of noise signed by 125 people had been handed to the parish council but many people near the road had not been contacted yet.
Mrs Bellshaw said the parish council would prefer it if a group of residents acted on this, it had felt a residents' group would be more effective.
The parish council had been disappointed at the Highways England response, several people felt it had been patronising.
It was felt an acoustic barrier would be a good solution while the new trees were growing, however one lady had checked on this but was told Tedburn was not in a Noise Important Area and so this would be most unlikely.
Someone else said they had moved into their home in 1978, the A30 had been opened in 1977, and a few years later when the central barrier went in, it had slightly muffled the noise of Cornwall-bound traffic. But now it was much worse than before.
Several people were at a loss about what to do, not wanting Tedburn to become a place no-one would move to because some parts had a noise problem.
Several people who had lived in the area for a number of years added that the noise now was worse than it had ever been, and not because they could see the traffic.
When it was said the new surface on the west-bound side of the road was quieter, it was wondered whether this surface could be laid on the east-bound side while the replacement trees were being planted.
Among trees planned to be planted in groups of three to nine along stretches where the pine trees had been are acer campestre, corylus avellana, crataegus monogyna, ilex aquifolium, prunus laurocerasus and then lonicera periclymenum and rosa canina which will be dotted throughout.
Asked if the local Devon County Council member, Cllr Jerry Brooks, had been contacted, Mrs Bellshaw replied that he had been sympathetic but as this was not a Devon County Council road, his powers were limited.
It was hoped that people would write to Highways England about the noise from the road: [email protected] .
It was hoped that Highways England would do a site visit to see (or hear) the problem for themselves, to consider barriers for privacy and noise.
Another meeting was scheduled for November 2 at the Village Hall, 7.30pm.
Comments
To leave a comment you need to create an account. |
All comments 0