A chance for all to take part in Crediton Parish Church's colouring and photo competitions
By 
Alan Quick
  |   Editorial Manager/Photojournalist   |
Friday 24th April 2020 8:23 am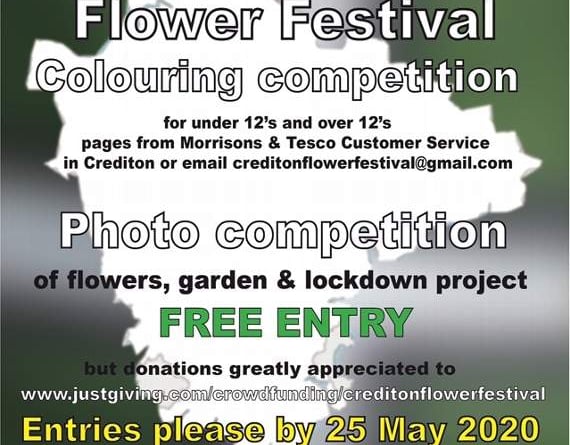 Subscribe newsletter
Subscribe to our email and get updates right in your inbox.
THE annual Crediton Parish Church's Flower Festival was originally scheduled to run from Saturday, May 30 to Thursday, June 4, but due to the Coronavirus has had to be postponed until 2021.
Excitingly the theme of "Devon Created" will be maintained along with all the wonderful crafts and displays that the church had lined up for people for this year.
Stella Stephens, the festival co-ordinator, said: "I won't spoil the surprise of the 2021 Festival but I'm sure some of you have heard about the exciting projects."
The Flower Festival is a major fundraiser for the maintenance of the building at the heart of Crediton keeping it upright and watertight. It is a church building that belongs to the people of Crediton.
The festivals are usually a wonderful time for Crediton and the wider community to come and meet but this is something not possible at present due to the coronavirus pandemic restrictions.
Stella added: "Last year the Festival raised approximately £8,000.
"The festivals are always well-attended events with more than 4,000 visitors, which work out at £2 per visitor to the Festival. This year money raised would have gone towards some repairs to the four tower pinnacles and complete some emergency holding repairs to the tower.
"This will then allow time and effort to be channelled into grant applications for the £1.6 million required for the increasingly urgent and extensive roof and other high level structural repairs that are needed."
She added that she always receives amazing feedback about how wonderful the festivals are.
Stella continued: "Instead of coming to the Festival this year, we would like to take the Festival out of the building and back to the people of Crediton and further afield.
"We want YOU to be a part of the 'Virtual Flower Festival' by submitting photos of flowers and gardens and also by colouring in the pictures.
"We would be delighted to see your photos and pictures – all free entry. These will then be published for all to enjoy.
"We have also decided to extend the Christmas Tree Festival so we will now open at 10am on Wednesday, December 2 until Sunday, December 6. We look forward to seeing you in December."
There are two pictures for colouring in – one for under 12s and one for over 12s. However, you are never too old or too young to colour them both in! Pictures are available for picking up at Morrisons and Tesco's Customer Service, both in Crediton, or CreditonParishChurchFestivals Facebook page or contact Stella Stephens and she can email or post to you.
Please photograph or scan your coloured picture to: [email protected] or you can drop them back to Crediton Morrisons or Tesco's – whilst of course doing your essential shopping.
There are three categories all with no age limits.
Photo of anything that has been completed during the COVID-19 isolation. (Organisers may ask to borrow it for the 2021 Flower Festival!)
An individual or group of flowers either from your photo collection or taken whilst staying home.
A photo of your garden (or indoor collection of plants) taken during the COVID-19 isolation.
The competition will be judged by Rev. Matthew Tregenza, Frank Letch (Mayor) and Jenni Pitts. There will also be an additional prize from Bishop Furry for the best colouring in of him for the Under 12s.
Winners will be announced on Devon Day (Friday, June 5, 2020).
Winning pictures will be published in the "Crediton Courier" as well as pictures uploaded to the Crediton Festivals Facebook page and Bishop Furry's Facebook page and church website.
Prizes will be given out at the 2021 Flower Festival where you will be able to see the object that was the inspiration of the over 12s colouring competition. The church is very grateful to Sue Smith Glass for the offer of the loan of the object (one of the surprises!) and permission to adapt her designs for the competition.
The closing date for submissions is Monday, May 25, 2020. Please, if possible, email your photos and also coloured pictures to [email protected] … or drop them all into Morrisons or Tesco's. For any other Festival queries please telephone Stella on 07960 388198.
Stella added: "We are aware that these are challenging times and it is free entry to this competition and you can submit as many pictures as you like. Please feel free to share the competition and colouring outline with all your friends far and wide.
"We would, however, be delighted if you wished to donate to the 'Virtual Flower Festival' Appeal. We have set up: www.justgiving.com/crowdfunding/creditonflowerfestival where all monies will go to the upkeep of the Crediton Parish Church – but we also understand that at this time there are so many personal and community needs.
"We are able to Gift Aid donations up to £20 automatically but if you wished to donate more or to donate by BACS please get in touch.
"Thank you very much particularly at these difficult times and we hope you enjoy the competition."
"Devon Created" – next year's Flower Festival will run from Devon Day, Saturday, June 5 to Thursday, June 10, 2021.
Comments
To leave a comment you need to create an account. |
All comments 0